Olympics-bound boxer Vikas Krishan made a surprise exit from the third International Republic of Kazakhstan President's Cup, losing to local player Kojabekov Bakhitjan in the quarter-finals of the welterweight division in Almaty on Friday.
However, rookie boxer Kanwar Preet Singh (+91kg), participating in his first international, easily beat Demmene Nadir of Algeria 11:4 on points to make it to the semi-finals of the super-heavyweight division. In the process, he assured himself a bronze medal.
Vikas (69kg) made a strong start with precise, attacking punches and took a one-point lead after the opening three minutes of play.
But the Kazakh boxer staged a strong recovery in the second, taking three points against the Indian's one.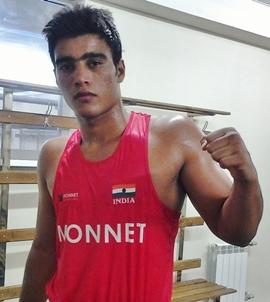 The 20-year-old Vikas, the Asian Games gold medallist, tried hard to get back in the final round, but Bakhitjan held on to the advantage and won on points, 9:7.
In the same weight category, bronze medal winner at the Senior Nationals last year, Lakhbir Singh (69kg) also suffered similar fate against silver medallist at the 2011 World Boxing Championships and 2010 Asian Games gold medallist Serik Sapiyev of Kazakhstan.
Lakhbir was completely out of sorts against the superior tactics and skill of Sapiyev, a former World champion. The Indian was down 2:7 in the second round when the referee stopped the contest, handing victory to the Kazakh.
Ninteen-year-old rookier boxer Kanwar Preet Singh (+91kg) dominated with his long reach and attacking play. He led throughout, not allowing the Algerian boxer chances to score. By the end of the second round there was a six-point difference between the two.
Kanwar takes on Dichko Ivan in Saturday's semi-finals.
Two more Indians will also take the ring in the semi-finals, and all are pitted against Kazakh boxers.
L Devendro Singh (49kg) has a tough task when he takes on Olympian and Asian Games silver medallist Birzhan Zakipov for a place in the final, while Manpreet Singh (91kg), another Asian Games silver medallist, will lock horns with Abduganiev Arbek.