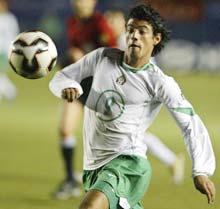 Sixteen-year-old Mexican Carlos Vela is set to join Arsenal, his present team Guadalajara said on Wednesday.
Guadalajara director Nestor de la Torre told reporters the club had agreed terms with an Arsenal representative.
Vela scored five goals to finish as top scorer in the World Under-17 championship in Peru in October, which Mexico won.
"Given our expectations and what we are looking for in a sporting sense and in terms of economic structure, the club is satisfied," said de la Torre, who did not reveal the amount involved.