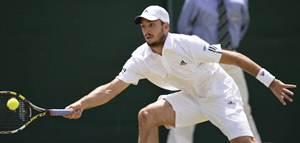 Serbia's Viktor Troicki's suspension for violating doping regulations has been cut from 18 months to 12 months after his appeal was heard by the Court of Arbitration for Sport, it was announced on Tuesday.
"The CAS has determined that the player has committed a doping offence, but that his fault was not significant, and has decided to reduce the suspension imposed by the ITF Anti-Doping Tribunal from 18 months to 12 months," a statement read.
The 27-year-old was suspended by the ITF in July for not providing a blood sample at the Monte Carlo Masters in April.
Troicki, a member of the Serbia team which won the Davis Cup in 2010, was ranked 53rd when the ITF announced his ban.
He will be free to continue his career on July 15 next year.
Troicki, who received public support from compatriot Novak Djokovic, always denied any wrongdoing and said he had been told by a doping officer that he could skip the blood test because he had not been feeling well.
Image: Viktor Troicki
Photograph: Adrian Dennis/AFP/Getty Images