Barcelona and Brazil striker Neymar has launched an attack on his former club Santos and spoken out in support of his father, insisting he had the right to make millions from the player's transfer last year.
A company owned by Neymar Jr. received 40 million euros when the Brazilian moved from Santos to Barcelona for a fee the Spanish club has since reported to be 86.2 million euros.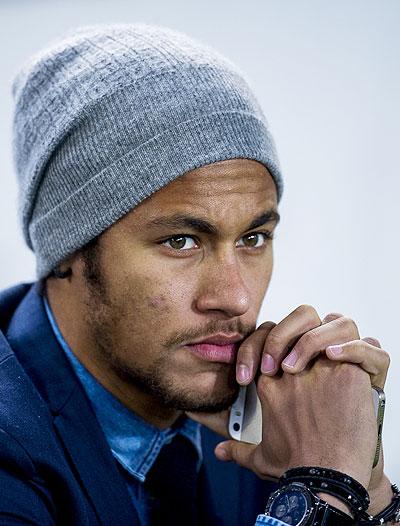 Santos's share was 17.1m euros, prompting the club's fans and officials to question the deal.
Santos asked a court to let them see the Neymar family's contract with Barcelona with a view to seeking a bigger cut of the transfer fee. The club lost their case and are now threatening to ask a Spanish judge to order Neymar and Barcelona to hand over the contract.
The 22-year-old Neymar, in a short and angry attack on his official Instagram page (http://instagram.com/p/knYJg_xtrG/), protested his father's innocence and hit out at Santos's current and former presidents.
"I am sick and tired of this ... I've had enough of all this talk," Neymar Jr. wrote.
"I am a fan of my dad for having put me where I am, and if he makes millions from that, what's the big deal? He worked for it, it didn't just fall in his lap."
"I am totally disappointed with the ex-president LAOR (Luis Alvaro de Oliveira Ribeiro) and the current ODILIO (Rodrigues)," he added.
"Principally with LAOR, who I always treated with the utmost care and admiration.
"Enough is enough. Sorry, Santos fans, but my love for the club won't change because of 'one or two people'."
Odilio Rodrigues had criticised Neymar Sr earlier this week, calling the deal he did with Barcelona "unacceptable".
"There was as an ethical error," he said, in reference to Neymar Sr's companies.
Neymar's father, in a statement on his son's website (http://www.neymaroficial.com) on Thursday, said he held no grudge against Santos -- the club Neymar supported as a child -- but he questioned their conduct.
"We could start deliberately blaming everyone else," he wrote.
"We hear lots of things and we don't really know what's going on. It seems to me to be opportunism or maybe internal (club) politics."
DEAL INVESTIGATED
Neymar helped Santos win three Paulista state championships and the Copa Libertadores for the first time in almost half a century.
However, his departure and subsequent arrival in La Liga have been plagued by controversy.
Barcelona initially said they had paid 57.1 million euros for the player but in January admitted the he cost them 86.2 million, including a bonus payment to his family.
The deal is being investigated by a Spanish court for possible misappropriation of funds following a complaint from a Barca member.
Sandro Rosell, who was named in the lawsuit but denies wrongdoing, stepped down as Barcelona president in January to defend himself in the case.
Barcelona were charged on Thursday with committing tax fraud in the signing of Neymar.
"Judge Pablo Ruz has charged FC Barcelona with an infringement against the tax authority relating to the purchase of the Brazilian player," a court spokesman said.
Barca had denied wrongdoing after local media reported on Wednesday that Spain's public prosecutor had asked for fraud charges to be laid against the club.
Neymar also dragged his best friend and former teammate Paulo Henrique Ganso into the row on Thursday.
The pair came through the ranks together at Santos and helped the club to their most successful period since Pele played for the side in the 1960s. But Neymar said Ganso, who left the club under a cloud, was hounded out by officials.
"He didn't leave because he no longer liked the club or didn't want to play for them, but because of the board!!" Neymar said without giving details.
Ganso is currently with Sao Paulo but has failed to consistently reproduce the early promise he showed at Santos.
Voted player of the tournament in last year's Confederations Cup, Neymar will lead Brazil's attack when they host the World Cup in June.
Photograph: Juan Manuel Serrano Arce/Getty Images