Acknowledging that "sleeping giant" India is slowly waking up to its potential in football, FIFA president Sepp Blatter said there is scope for other sports in the country besides cricket.
"To wake up a sleeping giant you need several alarm clocks. We have set up several alarm clocks. My tenure ends in 2015, but I won't leave FIFA until I see the sport established in the sub-continent of India," said Blatter, at a news conference in Delhi on Friday.
Blatter, accompanied by FIFA executive committee members Zhang Zilong, president of the Asian Football Confederation (AFC), and Manilal Fernando, arrived in Delhi on Friday afternoon to inspect infrastructure for the Under-17 World Cup. which, in January, FIFA had agreed in principle to award India to host.
"There is space for other sports in India. Football is the world sport... we are really a strong organization," said the 75-year-old Swiss, adding there can't be world football without India.
Blatter appreciated the improvement Indian football has made and revealed that FIFA has already started a process for development of the game in the country. He said it plans to open four football academies in Delhi, Kolkatta, Banglore and one more place.
He ruled out the possibility of the World Cup being held in the Asian region.
"Till 2022 all venues have been selected. 2026 you cannot get, but you could bid for 2030 World Cup football," he said
Blatter seemed satisfied with the change of guard in the AIFF.
"I am happy with the governance of the AIFF. I must thank Mr. (Praful) Patel for his initiatives," he said.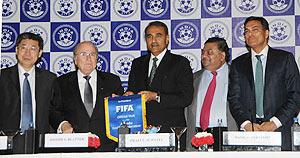 "The professional league has not yet got the standing but we will find a solution," he added.
Patel launched the country's bid to host the prestigious 2015 Club World Cup and 2017 Under-17 World Cup. 
In response to a question from rediff.com whether any of the bids are likely to be accepted, Blatter replied, "I am not a prophet who can predict. But 2017 under-17 World Cup is most likely to be accepted. But, remember, I am not the only one to decide. The proposal will go through a committee comprising 24 persons."
Blatter said goal line technology will come into effect in July.
The technology is being opposed by UEFA president and former French legend Michael Platini.
"We have had several meetings with the International Football Association Board (IFAB), who are the guardians of the laws of the game. It is likely to come into effect by July 2. But it won't be compulsory and it will depend on the respective football associations," he said.
Recalling the 2010 World Cup's pre-quarter-final match between Germany and England, in which Frank Lampard's goal was disallowed, Blatter said he doesn't want a repeat in the next edition.
"I don't want a repeat of Lampard's goal. Such things should not happen in the 2014 World Cup in Brazil. Mr. Platini can have his objections but we have to embrace the technology.
"But the human face of the game should stay. We have to live with errors. After all, referees are an integral part of the game," he said.
Blatter met Prime Minister Manmohan Singh and President Pratibha Patil also during his visit to Delhi.