Australia's Brooke Hanson charged to two gold medals while Ian Crocker needed a world record to give the United States their only individual victory at the world short course swimming championships on Sunday.
With one day of the meeting remaining, Hanson has established herself as the golden girl, figuring in five of Australia's six titles.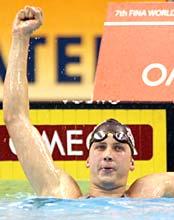 A gold and silver medallist in Athens recently, she carried her Olympic form over to the U.S., adding victories in the 100 metres breaststroke and 200 individual medley on Sunday to earlier wins in the 50 breaststroke, 100 medley and 4x100 medley relay.
Her five golds equal the championship record haul set by China's Le Jingyi in 1993 and Neil Walker of the United States in 2000.
A victory in her final event, the 200 breaststroke on Monday, will put Hanson in exclusive company.
Only four swimmers have won as many as six golds at an Olympics or world championships; Mark Spitz, Kristin Otto, Ian Thorpe and Michael Phelps.
"I knew I had an unbelievable number of events coming here and my goal was to win one gold medal," Hanson told reporters. "To get five gold medals is a dream come true for me.
"It's on a completely different level, competing short course. But it's still a world championship.
GOLD MEDALLIST
"I'm a
gold medallist at the world championships in five events, so that's just an amazing feat in itself."
After dominating the opening three days of the meeting, the United States had to be satisfied on Sunday with two golds from Crocker and the women's 4x100 freestyle relay team.
Determined to leave the championships with a world mark, Crocker withdrew from the heats of the 100 freestyle, in which he holds the world record, to conserve his energy for the 50 butterfly final.
The 22-year-old American's plan worked to perfection, roaring home in a time of 22.71 seconds, shaving .03 seconds off the previous best of 22.74 set by Australia's Geoff Huegill in Berlin in 2002.
Cheered on by the large crowd, Crocker was pushed the entire way by Britain's Mark Foster, who took the silver in 23.22.
It was the first individual world record swim in the temporary pool built on the floor of the Conseco Field House, home of the NBA's Indiana Pacers.
"I really wanted to walk away from this meet with a world record," said Crocker, who now has three golds at the meet.
"We knew there was a chance for a record, so why not go for it? I was nervous and knew it was going to take a world record to win."
With their two golds from the five finals, the U.S. were able to maintain their comfortable lead at the top of the medals table with 16 golds and 31 overall.
Australia were second with six golds and 22 overall medals.