One year after his axing by Chelsea left a dent in his ego Andre Villas-Boas finds his reputation soaring again as high-flying Tottenham Hotspur prepare to host north London rivals Arsenal in a match of huge significance.
Win it and Tottenham would move seven points clear of their arch-rivals and close to within two points of second-placed ManchesterCity with 10 games of the Premier League season left.
Defeat, however, would re-open old wounds and cast doubt on Tottenham's ability to finally emerge from the shadow of Arsenal who they have failed to finish above since the advent of the Premier League in 1992.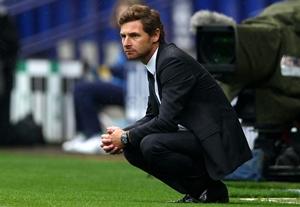 Portuguese Villas-Boas is well aware of the rivalry between the two sets of fans but refrained from over-hyping Sunday's clash at White Hart Lane -- instead hinting at a steely determination among the squad born of last season's pain.
Then, with Villas-Boas kicking his heels after his short reign at Chelsea was truncated, Harry Redknapp's Tottenham blew a 10-point lead over the Gunners to finish fourth, a position that in normal seasons would have resulted in Champions League qualification but which was denied them by Chelsea's extraordinary run to European glory.
Villas-Boas said a nagging sense of injustice would help Tottenham in their quest to stay above Arsenal and Chelsea.
"They suffered in the past and want to achieve (Champions League qualification," Villas-Boas, voted the Premier League's February manager of the month after three consecutive wins, told reporters on Friday at the club's impressive new training complex.
"Last season they thought they had qualified for the Champions League in fourth spot and saw it taken away from them because of the rules. It was difficult for them but everybody learns from experience.
"One thing I see in the players is the passion and desire to achieve things."
Despite his Chelsea experience and the subsequent upheaval at StamfordBridge, Villas-Boas steered clear of joining the debate over Rafael Benitez, although his demeanour is clearly that of man enjoying in the calmer surrounds of Tottenham.
Judging by the way the players celebrated Gareth Bale's late winner with Villas-Boas at West Ham on Monday, he clearly appears to have harnessed a togetherness he never achieved at Chelsea.
"I don't see it like that," the former Porto coach said when asked if finishing above Chelsea was a target. "It would be good because it would mean we would qualify (for the Champions League) and that fact we achieve that means much more."
At Chelsea there were suggestions that Villas-Boas had bitten off more than he could chew -- struggling to impose his personality on the club's senior players.
He said he has learned from that experience.
"You always learned from mistakes," he said. "Be it man management, preparation for the games, for training sessions, whatever, everything serves as experience.
"It's the way you adapt to the culture of the club."
While Villas-Boas prepares for his second north London derby following a 5-2 hammering at the Emirates earlier this season, Arsenal manager Arsene Wenger is preparing for his 40th.
The wily Frenchman has tasted defeat in only five of his 39 previous north London derbies, seeing off a succession of Tottenham managers in the process, but knows the gap between the clubs has closed drastically.
"The game on Sunday will have an important psychological importance for the rest of the season of course," Wenger told reporters. "So I believe that the way we will play on Sunday will have a big impact on the rest of the season."