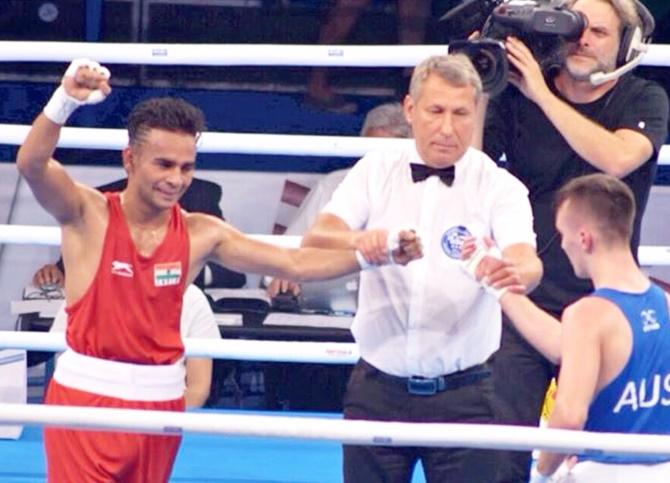 IMAGE: India's Gaurav Bidhuri, left, celebrates. Photograph: Facebook
The unheralded Gaurav Bidhuri (56kg) advanced to the quarterfinals with an upset win but Shiva Thapa's quest for a second World Boxing Championship medal ended without exchanging a single blow as he was forced to withdraw due to food poisoning and fever, in Hamburg on Monday.
Shiva, seeded fifth in the lightweight 60kg category, was to take on Georgia's Otar Eranosyan in his second-round bout after being given a first-round bye.
However, weakened by food poisoning and high fever, he was for forced to give a walkover in what would have been his opening bout.
"He was throwing up last night and this morning, he was running high fever as well. He couldn't have fought, his body was not holding up. We tried to do everything but he was very weak," an Indian team official said.
Shiva had won a bronze medal at the 2015 World Championships in Doha.
Also making an exit from the tournament was Manoj Kumar (69kg). The former Commonwealth Games gold-medallist went down in a split verdict to fourth-seeded Venezuelan Gabriel Maestre Perez.
However, Gaurav ensured that India had something to celebrate. He got the better of Ukrainian Mykola Butsenko in an exhausting pre-quarterfinal bout late on Sunday night.
The Delhi-boxer, who got into the event on a wildcard after missing out on automatic qualification, held his nerves and matched his Butsenko punch for punch in a thoroughly engrossing contest.
The two boxers attacked each other relentlessly and expectedly the judges came out with a split verdict in favour of the Indian.
However, third seed and 2011 World Championships bronze-medallist Vikas Krishan (75kg) was ousted after a second-round loss. He bowed out after being bested by England's Benjamin Whittaker.
Also making an early exit was Asian silver-medallist Sumit Sangwan (91kg) who lost to Australia's Jason Whateley in a split decision.
Bhaskar retained as Ranji coach, Prabhakar named bowling coach
KP Bhaskar was today retained as the chief coach of Delhi Ranji team by the Cricket Affairs Committee (CAC) despite non-performance in all the domestic tournaments last year.
Former India all-rounder Manoj Prabhakar has been named the bowling coach, by the Madan Lal-led Committee. Prabhakar incidentally was the chief coach of the senior team during the 2010-11 season. He has replaced Amit Bhandari, whose performance had also come under scanner.
In another important decision, Virat Kohli's childhood coach Rajkumar Sharma has been appointed the coach of the Delhi Under-23 side.
Sharma runs a popular cricket coaching centre -- West Delhi Cricket Academy, where Kohli got his first cricketing lessons.
After deliberating for nearly five days, the Committee decided to retain Bhaskar, despite the senior team's poor performance in the premier domestic tournaments -- Ranji Trophy and Vijay Hazare Trophy.
CAS dismisses Chinese weightlifters' appeals
The Court of Arbitration for Sport (CAS) has dismissed the appeals filed by two Chinese women weightlifters who were stripped of the gold medals they won at the 2008 Beijing Olympics after failing doping tests conducted eight years later.
In January, the International Olympic Committee (IOC) ordered Cao Lei (75kg) and Liu Chunhong (69kg) to return their medals from the Beijing Games after re-tests of samples tested positive for prohibited substances.
The athletes tested positive for banned human growth hormones along with compatriot Chen Xiexia, who won gold in the 48kg category in Beijing and was also disqualified by the IOC.
CAS said in a statement on Monday that it had upheld the IOC's decision against the two athletes.
"As a consequence the athletes are disqualified from the events in which they participated: Chunhong Liu – Women's 69kg (gold medal), and Lei Cao – Women's 75kg (gold medal)," CAS said.