A summary of sports events and sports persons, who made news on Tuesday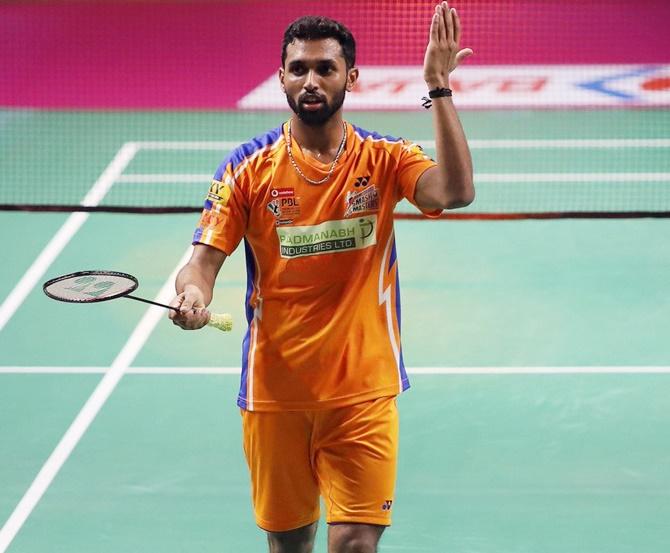 IMAGE: HS Prannoy celebrates. Photograph: PBL/Twitter
Ahmedabad Smash Masters secured a berth in the semifinals of Premier Badminton League (PBL) with a crushing 5-0 win over Mumbai Rockets on the final day of the Chennai leg on Tuesday.
The Ahmedabad team became the first to qualify for the semi-final, at the Nehru Indoor Stadium.
Sourabh Verma outclassed his brother Sameer 15-14, 15-11 in the trump match to ensure Smash Masters' progress.
Sourabh took a closely fought first game and looked like running with the second as he opened up a 10-4 lead. Sameer fought back briefly but that wasn't enough as his brother looked in control.
It was a thoroughly dominant performance from the Ahmedabad team, making its debut in the league with World No.1 Tai Tzu Ying underlining her class and H S Prannoy registering an upset 15-12, 15-12 win over World No.5 Son Wan Ho.
Tzu Ying was in her elements as she dismantled Beiwen Zhang 15-9, 15-12 in quick time to put Smash Masters 3-0 ahead after three matches.
Lee Yong Dae and Tan Boon Heong salvaged the sole win for the Rockets with a 15-10, 15-12 defeat of K Nandagopal and Lee Reginald in the final match.
Earlier, Ahmedabad's mixed doubles pair of Law Cheuk Him and Kamilla Rytter Juhl began the proceedings in earnest by defeating the Mumbai duo of Lee Yong Dae /Gabriela Stoeva 15-11, 15-7.
Mumbai Rockets ended the league with 10 points while Chennai Smashers finished with 12 points and are out of contention for the knockouts.
Sonia, Shashi on course for clash in final of national boxing
Former world champion Sarita Devi (AIP) and Asian boxing championship silver medallist Sonia Lather stormed into the quarterfinals of the National Women's Boxing Championship in Rohtak.
Sonia (Railway Sports Promotion Board) dominated her bout against Preeti (Punjab) in the featherweight category, connecting repeatedly with her combination punches to win unanimously.
Her 5-0 win put her on course for a potentially exciting final against Shashi Chopra.
Shashi, who was crowned the World Youth Champion recently and is fighting her first elite championship, came through her round with equal ease. She toyed with Saloni Shah (Maharashtra), showing her usual aggression and speed before winning 4-1.
Sarita Devi too showed her class in the lightweight category, beating Muthulakshmi (Tamil Nadu) without much of an effort.
Earlier, entering the quarters was President's Cup bronze-medallist Lovlina Borgohain (69kg) of Assam. Borgohain got the better of Maharashtra's Almas Shaikh in a unanimous 5-0 verdict.
Railways Sports Promotion Board's boxers had a good day with Asian Championships quarterfinalist Shiksha (54kg) and former national champion Pavitra (60kg) entering the quarters.
While Pavitra out-punched Bihar's Shivani Bharti, Shiksha defeated Rajasthan's Jyoti 5-0.
Utsab Chatterji upsers Russian GM Andrei Devaitkin
Unheralded West Bengal youngster Utsab Chatterji shocked Russian GM Andrei Devaitkin while top seed GM Arkadij Naiditsch and second seed GM Abhijeet Gupta enjoyed easy wins at the Delhi International Open Chess tournament, in New Delhi.
In another upset, Karthik Kumar Pradeep rated 2004, managed to beat GM Himanshu Sharma, rated 2470.
Naiditsch, rated 2701, had a very easy outing after his opponent Varshini V, rated 2062, failed to create any chance.
"I am wary of the Indian youngsters as they are known to be dangerous and underrated. Today, it was an easy day," said Naiditsch.
Arjuna awardee GM Abhijeet Gupta rated 2610 also had an easy day in office as he beat Karnataka's Likhit Chilukuri with black pieces.