Norway's Kjetil Jansrud sped to Olympic gold in the men's Super-G alpine skiing on Sunday and Eva Samkova of the Czech Republic won the women's snowboarding cross on the testing course where a Russian skier broke her back a day earlier.
Skicross racer Maria Komissarova, 23, was in a serious but stable condition after an operation lasting more than six hours on Saturday to insert a metal implant in her back. Doctors said it would take three or four days to know how successful the surgery had been.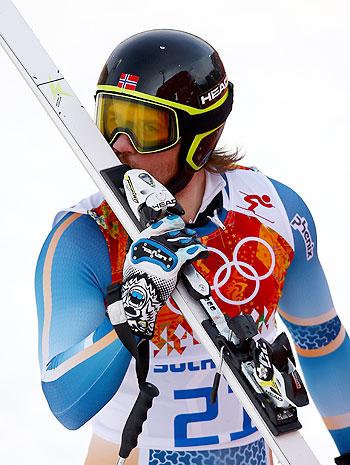 On the ninth day of medal competition Dutch speed skater Ireen Wust was aiming for her second gold of the Games, in the women's 1,500 metres, and French biathlete Martin Fourcade was favourite to get his third in the 15km mass start.
But many Russians' thoughts were still on the ice hockey action of the previous day, when a late disallowed goal cost the host nation victory over arch-rival the United States.
In a rare moment of political unity, supporters and opponents of President Vladimir Putin came together on Twitter to express their outrage after the Americans won in a shoot-out.
"The puck was in the goal. What an abomination. Cheating before the whole world! Disgusting!" wrote Alexei Pushkov, a senior pro-Putin member of parliament after the score was wiped out because the goal had been shifted from its mooring.
Prominent gay activist Nikolai Alexeyev, at odds with Putin over a law banning homosexual propaganda among minors that overshadowed the build-up to the Games, was left in shock: "There's a huge scandal in the hockey tournament. The American referee didn't allow the Russian goal. Damn!"
After pre-Games criticism over human rights and the estimated $50 billion cost of bringing the Olympics to Sochi, Putin can so far take satisfaction from an event where Russia has shown a friendly, welcoming face to the rest of the world and the sporting action has yielded plenty of drama.
MEDAL VETERANS
On the Rosa Khutor piste in the Caucasus mountains, Jansrud secured Norway's fourth successive Olympic men's Super-G win, while 36-year-old American Bode Miller tied for bronze with Canada's Jan Hudec, to become the oldest ever Alpine skiing medallist.
Miller's teammate Andrew Weibrecht captured a surprise silver medal after starting 29th, with all the favourites gone.
"When Andrew came down he scared me," laughed Jansrud. "It was a little too exciting. My legs were like jelly there for a second but I knew I had finished very strong."
Czech snowboarder Samkova, sporting a fake moustache for good luck, avoided the rough and tumble of the pack in a thrilling event where racers go head to head down a twisty course full of bumps and jumps, jostling with their rivals to find the best line.
Defending champion Maelle Ricker of Canada and 2006 silver medallist Lindsey Jacobellis of the United States were eliminated in the heats after taking tumbles on the ExtremePark course.
Dominique Maltais of Canada took silver to add to the bronze she won in Turin eight years ago, while French teenager Chloe Trespeuch won the bronze after overhauling Bulgarian Alexandra Jekova.
Two more racers, Norway's Helene Olafsen and American Jacqueline Hernandez, were stretchered off earlier after bad falls, though neither was seriously injured.
After 53 of 98 events, Germany led the medals table with seven golds, followed by Norway and Switzerland and five. Hosts Russia were tied on four with Canada, the United States, the Netherlands and Poland -- who have no silvers or bronze.
In late-night action on Saturday, Poland's Kamil Stoch snatched the men's large hill ski jumping gold medal from Japan's Noriaki Kasai, overhauling him with the last jump of the competition.
But the silver was a triumph for the 41-year-old Kasai, who was competing in a record seventh Winter Olympics but had never before won an individual medal.
"It is hard to describe. What can I say? It is like a dream to me," Kasai, the oldest ski jumper to win an Olympic medal, told reporters after being cheered and applauded by a gaggle of excited Japanese TV crews.
"All these years I was disappointed by the Olympic Games. Today I just had to do it."
Image: Kjetil Jansrud of Norway reacts after a run during the Alpine Skiing Men's Super-G on day 9 of the Sochi 2014 Winter Olympics at Rosa Khutor Alpine Center on Sunday
Photograph: Doug Pensinger/Getty Images