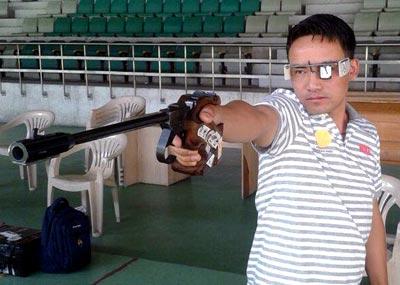 India's medal tally at the Shooting World Cup has swelled with Olympian Jitu Rai adding another one to his kitty.
Jitu Rai won the bronze medal in the 10m Air Pistol event at the International Shooting Sports Federation (ISSF) World Cup in New Delhi on Tuesday.
This is Rai's second medal having claimed the top prize in 10m air pistol mixed event with Heena Sidhu on Monday.
The 29-year-old Rai shot a total of 216.7 in the eight-man final to finish third on the podium.
Rai was sixth in the pistol qualification stage with 577.
The Asian Games and World Championships silver-medallist was languishing at the seventh position after the end of the first competition series that included an 8.8.
But he clawed his way back with two 10.6 and a 10 in the second competition series. At the end of that series, Rai was placed sixth with a total of 98.7.
He managed to maintain status quo even as the final entered the elimination stage at the Dr Karni Singh Shooting Range. He shot two 10s in the following shots to continue his gradual ascent.
The Army man roared back to contention with a couple of 10.6 and ensured a bronze with a 9.9, finishing ahead of China's Zhanyi Xu (197.9).
With a lead of 0.1 point over Vietnam's Xuang Vinh Hoang, Rai was in the hunt for a silver but an 8.6 meant he had lost that chance.
"I was down in the beginning, it went very badly. I had doubts if I would be able to win. But I had made up my mind to give my best and fight till the end and I fought till the end. One by one I climbed up the ladder," Rai said.
He said the few bad shots initially, in a way, had a positive impact on him as they helped "ease the pressure".
"I don't think much about the scoreboard as it can affect my mind. I was only focused on the job at hand, what I need to do. I was not thinking about qualifying for the final. After I had two-three bad shots, the pressure had eased too. Like you get to learn from your mistakes, I also learnt from my initial mistakes. The pressure just eased after that and it was good for me," he said.
"This is my third international medal after the Olympics. Won a silver medal in the World Cup final and was crowned the champion of champions. Had a gold in another World Cup prior to that."
Having shot his way back into contention today after a poor start, Rai said he had a similar experience before.
"I had a similar experience in Korea(in a World Cup in Changwon, Korea). I played very well and hit 10 shots continuously to rise from last position. I am not scared of last position but I don't give up till the end."
The gold went to Japan's Tomoyuki Matsuda with a world record total of 240.1 points, while Vietnam's Xuan Vinh Hoang claimed silver with 236.6 points.
Rai's counterpart, Chain Singh finished a disappointing seventh in the final of the men's 50 rifle prone. Singh shot 141.9.
The other Indians in the fray in the air pistol event -- Omkar Singh and Amanpreet Singh -- failed to qualify for the main event.
In the day's other medal event, Olympic bronze medallist Gagan Narang could not clear the qualification hurdle, finishing 15th.
In 50m rifle prone, Japan's Toshikazu Yamashita won gold with a world record 249.8, China's Yukun Liu bagged silver with 249.3, a junior world record, while the bronze went to Daniel Romanczyk of Poland with 226.6.
Pooja Ghatkar had won India its first medal on the opening day of the competition while Ankur Mittal clinched the silver medal in a marathon double trap on Monday.
Image: Jitu Rai