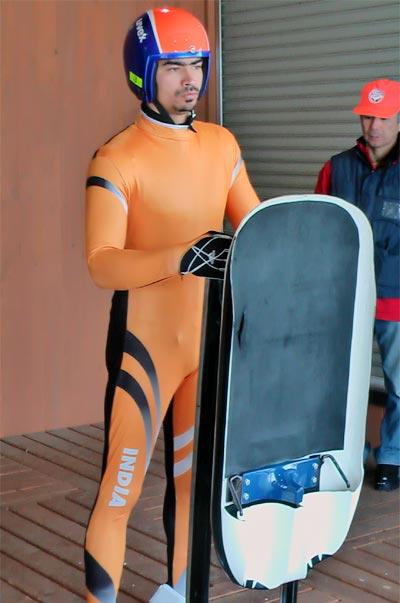 India created history at the Olympics last year, winning six medals. It was the country's best-ever performance at the quadrennial Summer Games. Now, Luger Shiva Keshavan is looking to raise the flag at the Winter Olympics in Sochi, in February next year, with an eye on the coveted gold medal.

Keshavan has represented India at four Winter Olympics and, at 16, was the youngest athlete to participate in the 1998 Nagano Olympics. He will be the lone athlete to represent the country at the upcoming Games for the fifth consecutive time.

While India's Summer Olympic athletes have the privilege of government funding, Keshavan's efforts have been largely ignored.

" 'First they ignore you, then they laugh at you, then they fight you, then you win'… Mahatma Gandhi's words have been with me through my journey of 17 years of representing India.

"I am the only Indian athlete to participate in the Winter Olympics for four times and I am privileged to have the support of Olympic Gold Quest. As I prepare for my fifth participation at the Olympic Winter Games, I envision India achieving results on the world stage. Towards this vision, I hope, and am working, to bring more medals for India. I cannot do this alone. I need you and every other Indian to be a part of this mission," says the Himachal Pradesh-born athlete as he seeks assistance to realise Olympic glory.

Though timely help has come in the form of Olympic Gold Quest, who have partnered with Ketto for an initiative to raise Rs 10 lakh to fund Keshavan's training programme for the Sochi Games, it is not enough.

The sport itself is not easy. The luger has to steer the sled down slopes at speeds in excess of 140 kmph. Besides, it is very expensive; a sled costs nearly four to five lakh, without including the costs of customization. And customization is a vital factor that could mean all the difference between winning and losing.

Right from training at various European countries to participating in various tournaments, Keshavan is doing all he can and more to bring glory to India.

OGQ Chief Executive Officer Viren Rasquinha says his organisation is looking for smaller amounts from a larger group of people through their campaign to support the luger.

"We are looking to crowd fund Rs 5 lakh via Ketto and also for a corporate to match that amount allowing us to reach our goal of Rs 10,00,000. The campaign will close on December 31, 2013 and OGQ wants to do everything possible to help Shiva win a medal at the Sochi Winter Olympics 2014," he says.

OGQ was founded by India's sports legends Geet Sethi and Prakash Padukone in 2001 to support the country's athletes achieve the ultimate of winning an Olympic gold medal.

At the London Olympics, four out of the six Indian medal winners, which included Gagan Narang, Vijay Kumar, Saina Nehwal and Mary Kom, were supported by OGQ, which currently supports 49 athletes across seven disciplines.

For most of his career, Keshavan was left to fend for himself. This time you can help by being part of Olympic gold Quest's campaign by supporting his dream of winning a gold medal at Sochi.
- Click to make your contribution to support Keshavan's medal dream in Sochi