Ace Indian paddler Sharath Kamal on Saturday advanced to the second round of the ITTF Kuwait Open Super Series table tennis tournament after a 4-2 victory over Hampus Soderlund of Sweden in Kuwait City.
The World number 75 Sharath beat his 311th-ranked opponent 11-7, 11-7, 11-7, 7-11, 11-13, 11-5.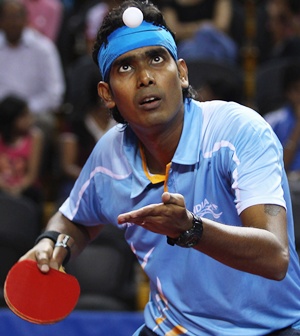 Sharath, who is the only Indian left in the tournament, plays Germany's Bastian Steger in the second round.
Soumyadeep Roy, however, got the thrashing at the hands of China's World No. 1 Xu Xin who beat the Indian 11-7, 11-7, 11-6, 11-4.
The rest of the Indians including men's national champion Soumyajit Ghosh, Harmeet Desai, Sanil Shetty and Jubin Kumar had failed to qualify for the men's singles main draw.
In the women's singles, none of the Indians could reach the main draw with Ankita Das, Shamini Kumaresan, Mousumi Paul, Pooja Sahasrabudhe, Neha Aggarwal and Madhurika Patkar falling by the wayside.
In the men's doubles, the combinations of Sharath Kamal and Sanil Shetty, Jubin Kumar and Soumyadeep Roy, and Harmeet Desai and Soumyajit Ghosh fell at the qualifying round.
In the women's doubles, the combinations of Neha Aggarwal and Shamini Kumaresan, Madhurika Patkar and Pooja Sahasrabudhe met with the same fate.
Photograph: Ian Walton/Getty Images