Supported by his sons and receiving a standing ovation from a 12,000-strong crowd, Serbia midfielder Dejan Stankovic entered retirement as his country's most capped player with a 2-0 victory over Japan in a friendly on Friday.
The 35-year old, who retired from club play during the offseason after spending the last nine years at Inter Milan, played the opening 10 minutes of the match before being embraced by his wife and three sons as he completed his 103rd cap for the Balkan nation.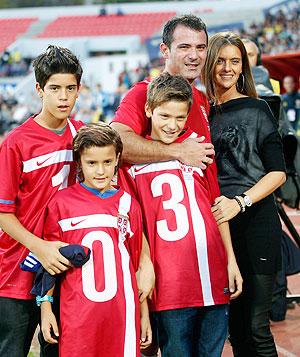 "Every game I played were sublimed by these wonderful last 10 minutes and I can only thank everyone who turned up to make it a memorable afternoon," Stankovic told Serbian television.
"There were ups and downs, trials and tribulations and I am just grateful I could put on the captain's armband one last time."
The versatile central midfielder, who scored on his international debut in a friendly against South Korea in 1998, won five Italian league titles and the 2010 Champions League with Inter after spending six years at Serie A rivals Lazio and four at his first club Red Star Belgrade.
Being the last European household name from Serbia's flailing production belt before Manchester United captain Nemanja Vidic moved to the Premier League in 2006, Stankovic got the send-off he deserved.
His sons wore shirts with numbers embodying the number of his caps for Serbia, its union with Montenegro, which dissolved in 2006, and the former Federal Republic of Yugoslavia who reached the 1998 World Cup last 16 with a youthful Stankovic as the midfield dynamo.
"Stankovic gave his entire self to the national team and I am delighted that he has become our most capped player," said coach Serbia's 44-year old coach Sinisa Mihajlovic, who played alongside Stankovic at Inter and Lazio.
Midfielders Dusan Tadic and Milos Jojic scored for Serbia in the second half against Japan, who have already qualified for next year's World Cup finals in Brazil.
The Serbians missed out on the 32-nation tournament as Belgium qualified from European Group A on Friday with a 2-1 win against Croatia, who are in contention for a play-off berth.
Image: Dejan Stankovic of Serbia poses with family at his farewell match during the international friendly between Serbia and Japan at Karadjordje Stadium in Novi Sad, Serbia on Friday
Photograph: Srdjan Stevanovic/Getty Images