London Olympic champion and world record holder Elena Lashmanova of Russia continued her dominance, clinching gold in the 20km walk race at the 14th IAAF World Athletics Championships in Moscow on Tuesday.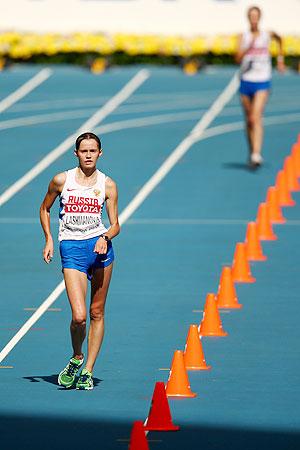 Lashmanova completed the race with a timing of 1 hour 27 minutes and 8 seconds, around two minutes outside her world mark of 1:25:02.
Another Russian and bronze medalist of the last edition, Anisya Kirdyapkina did one better to clinch the silver in 1:27:11 while China's Hong Liu, who had won silver in the last edition, came third in 1:28:10.
India's Khusbir Kaur finished a distant 39th in the 62-athlete field, but still improved on her own national record.
The 20-year-old Kushbir clocked a time of 1 hour 34 minutes and 28 seconds, cutting down three minutes from her earlier national mark of 1:37:28, a record she set in Patiala last year.
Photograph: Cameron Spencer/Getty Images