Kenyan 800 metres runner David Rudisha, who set 2010's only major world record, and world indoor high jump champion Blanka Vlasic of Croatia were named IAAF Athletes of the year on Sunday.
Rudisha, 21, twice eclipsed the 800 metres record, eventually running one minute 41.01 seconds, in a sparkling season of 12 consecutive victories.
Vlasic, 27, won 18 of 20 competitions in what she called one of her most challenging seasons.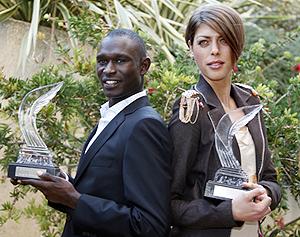 They were being honoured at the annual World Athletics Gala in Monaco on Sunday.
Rudisha broke a string of four consecutive years in which sprinters were athletes of the year -- with Jamaican world record holder Usain Bolt winning for the last two.
Rudisha's run of 1:41.09 in Berlin in August ended Wilson Kipketer's 13-year reign as the world record holder.
Seven days later the Kenya came close to eclipsing the 1:41 barrier in Rieti.
"Running under 1:40 is far away," Rudisha said at a gathering of the past four 800 metres record holders on Saturday.
"I think I was saying this year 1:40 might be possible and that is what I'm aiming for."
However, it might not happen in 2011, he said.
"Next year we have the world championships (and) the Olympics the following year," he said. "That might sort of hinder some forecast of a fast time. But I think myself 1:40 is possible."
INDOOR SEASON
London Olympics boss Sebastian Coe, a former world record holder, said Rudisha could improve his latest time.
"I'm not going to say (Rudisha could run 1:40), because that's unfair for him, but I think my gut instinct is that there is still some time to come out of David's performance," Coe said at the gathering.
Vlasic won often in 2010, including the European championships, but she said the victories were not easy.
"I struggled a lot with my feelings," the twice world champion said. "Every time I won I won against my weaknesses, against my demons and against the other girls. Mostly it was against myself."
She plans to skip the upcoming indoor season to recharge herself for the outdoor circuit.
Stefka Kostadinova's 1987 world record of 2.09 metres was within reach, said Vlasic, who in 2009 came with a centimetre of the mark.
"The world record for me is like a pair of perfect shoes in the store when you are a little child and you want them so much," Vlasic said.
"They look so nice but you know sometime, some day you will probably have the opportunity to buy them. It's like a sweet worry."
US sprinter Tyson Gay, American hurdler David Oliver, Eritrean distance runner Zersenay Tadese and Norwegian javelin thrower Andreas Thorkildsen were the other male finalists.
Vlasic succeeded American Sanya Richards as the top female athlete.
Other finalists were Jamaican sprinter Veronica Campbell-Brown, U.S. sprinter Allyson Felix, British heptathlete Jessica Ennis and Kenyan steeplechaser Milcah Chemos Cheywa.