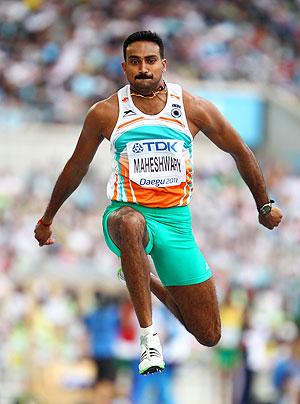 Triple jumper Renjith Maheswary on Wednesday said that he took part in the National Open Athletics Championships in Ranchi under "mental stress" due to the uncertainty over his Arjuna Award issue but is satisfied with his silver-winning effort.

National record holder Maheswary finished second in triple jump event with an effort of 16.64 metres on Tuesday. He took part in the September 7-10 event after his Arjuna Award was put on hold following an inquiry by the Sports Ministry on whether he had been punished for dope offence in 2008.

"I was taking part in Open Nationals after my Arjuna Award was put om hold by the Sports Ministry. I was taking part despite the mental stress I was having for the last few days. Naturally, that has affected me," Maheswary said.

"But I am satisfied with my performance as I have been consistent at around 16.6m this whole season. I am happy that young Arpinder Singh, who trains with me, won gold and he is doing well," he said.

Despite the controversy surrounding his dope issue, Maheswary said that he remains positive that he will get out of it and will bring laurels to the country in the Commonwealth and Asian Games next year.

"The season is over and I will take rest for around 15 days at home. Then I will start training at NIS Patiala. My aim now is to do well in the Commonwealth and Asian Games next year," he said.

A few hours before the Arjuna Awards ceremony, Maheswary was told under dramatic circumstances that he will have to wait for the coveted honour till an inquiry on whether he had failed a dope test five years back.

It has been nearly two weeks now that the government has not taken a decision on Maheswary even as the Athletics Federation of India has told Sports Ministry that it has no record of the triple jumper having punished for dope offence.

Asked when a decision can be expected, Sports Secretary P K Deb said: "The Sports Minister is abroad now and he will come back only on September 16. We will take a decision only after that."
Photograph: Mark Dadswell/Getty Images