Rafael Nadal had taken anti-inflammatories and undergone intensive physiotherapy to alleviate a lower back problem and still planned to compete in Buenos Aires next month, his spokesman said on Wednesday.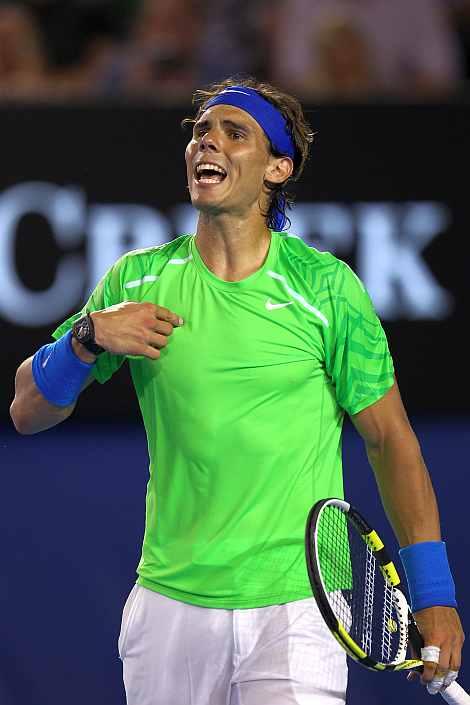 The world number one had tests on the injury, which wrecked his chances in Sunday's Australian Open final, in Barcelona on Tuesday followed by the treatment before returning to his native Mallorca to rest, the spokesman said in an emailed statement.
"Next Monday he will have further tests to evaluate the progress of his recovery and to see if he can gradually start training again," he added.
Nadal still intends to play in the clay event in Buenos Aires starting on Feb. 10, followed by the tournament in Rio de Janeiro, also on clay, and the hard court Masters events at Indian Wells and Miami.
Nadal lost to Swiss Stanislas Wawrinka in the Australian Open final, which prevented him drawing level on 14 grand slam singles titles with American Pete Sampras, three short of record holder and great rival Roger Federer.
He needed lengthy treatment at the start of the second set, hit back to win the third but Wawrinka eventually captured his debut slam with a 6-3 6-2 3-6 6-3 triumph.
Nadal should recover quickly, says coach
Meanwhile, his uncle and coach Toni told Spanish radio on Monday that Nadal should recover from the back problem after a few days rest.
His uncle told Cadena Ser's El Larguero show his nephew planned to return to his native Mallorca from Melbourne before heading to Argentina where he is due to take part in a clay event in Buenos Aires starting on Feb. 10.
"The doctor said it's a tightening of the muscles and a few days rest should be enough," said Toni.
"He went into the match after feeling twinges during the week but very minor ones that normally do not affect you at all.
"In the second game of the second set he felt a pinch. When I asked him after treatment what was happening he said 'it's over'."