Spanish football giant Real Madrid [ Images ] is ready to offer Argentine star Carlos Tevez [ Images ] an escape from his Manchester City [ Images ] nightmare.
The Spanish club is understood to want Tevez, whose City career is effectively over following his alleged refusal to play against Bayern Munich [ Images ] in the Champions League [ Images ] last month.
City would this week announce what action they intend to take against him following an internal investigation into the striker's Munich mutiny, The Mirror reports.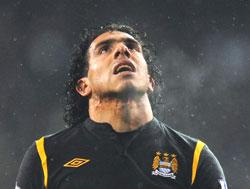 Real boss Jose Mourinho wants Tevez, whose two-week suspension ends on Thursday and who is back home in Buenos Aires.
City want at least 35million pounds for Tevez, but the striker will have to overcome the stumbling block of Real being unwilling to meet his wage demands of 250,000-pounds-a-week.
I can't afford Tevez: Maradona
Meanwhile, Diego Maradona [ Images ] has admitted he cannot afford to rescue his old friend Carlos Tevez from his Manchester City nightmare.
The Argentine legend is now in charge of wealthy Dubai [ Images ] outfit Al Wasl and has kept a close eye on his countryman's woes in England [ Images ].
But Maradona, who coached the 50 million pounds rated striker while in charge of Argentina, said: "Tevez is very expensive and right now we have a budget for around five percent of the fee he commands."         
It was reported earlier this week that troubled Tevez could be transferred to the Doncaster Rovers.
Rumours in the South Yorkshire town suggested that club owners are lining up an audacious bid for the striker, who is accused of refusing to play in Munich last week.