Raninder Singh was on Saturday re-elected unopposed as president of the National Rifle Association of India (NRAI) for a four-year term.
This is Raninder's second term in office. He was first elected president of the NRAI in December 2010 when he defeated Shyam Singh Yadav by a huge margin.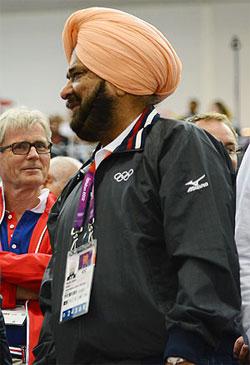 The 46-year-old Singh, who represents Punjab in NRAI's governing body, is a trap shooter and has participated in ISSF World Cups and National Championships.
He got an overwhelming support from across the country, garnering 517 votes out of 843 for the authorisation to nominate members to the general house.
The vice-presidents elected were Ajay Patel (Gujarat), Deep Bhatia (Haryana), Putuul Kumari (Bihar), M S Rana (Uttarakhand) and Kalikesh Kumar (Odisha).
Tamil Nadu's D V S Rao has been appointed to the post of Secretary General while Jagmeet Singh Sethi and Darius Chennai have been elected as joint secretaries.
The shooting federation appointed Sanjay Behl to the post of treasurer.
NRAI's 16 governing body members: Atul Behroor, A K Singh, Ashok K Kumar Chatterjee, Devasia Kurien, Gurjeet Singh Ujala, Eshan Rohal, J S Marwah, Karan Kumar, Kishan Avatar Sethi, Neil Soopinck, Pawan Kumar Singh, R Ravi Krishnan, Rajesh Jagdale, Rosangliana Ralte, Subhash Rana, Surender Dutt Sharma.