Karamjit Singh (co-driver Allen Oh) of Malaysia's Petronas Eon Racing team, driving a Group A (modified) Proton Pert, shifted gears to snatch a 90-second lead over Germany's Armin Kremer (co-driver Fred Berssen) of Team MRF Tyres, at the end of Leg 2 of the MRF India Rally, the fifth and concluding round of the 2003 FIA Asia Pacific Rally Championship, in Pune pn Saturday.
Karamjit, the 2002 APRC and World champion (production car class), driving as hard as he could, rapidly made ground on Kremer who had led the Malaysian by a minute at the end of Leg 1.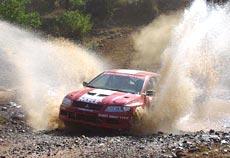 Setting a scorching pace, Karamjit took 14 seconds off Kremer, the 2001 European champion, in the day's first Special Stage (SS-6), a further 54 seconds in SS-7 to retake the lead he had on Friday until a puncture cost him two minutes.
Thereafter, Karamjit consolidated his position by extending the lead by a further 45 seconds in SS-8 and then stretched it to one minute, 29.7 seconds at the end of Leg 2.
Kremer, who had clinched the Group N (unmodified) title last night after his closest rival Japan's Fumio Nutahara had dropped out following an off-road excursion, had to deal with gear selection problems. He was forced to drive his Group N Mitsubishi Lancer Evolution 7 in third gear through much of SS-7 and SS-8.
"It was basically a technical problem and I was stuck in third gear for nearly 10 kms of SS-7 and also the next Stage. It has been a tiring day for me, with the Stages being long, narrow and tricky.
"However, we only need to finish second Overall to win the APRC championship and that is not too bad a position to be in. But then, I need to keep an eye on Nutahara who might be starting again tomorrow to try for some Leg points," said Kremer at the final Service halt.
Nutahara, after crashing out yesterday, started Leg 2 today, but half-way through SS-7, the gearbox of his Evo 7 gave way, forcing him to retire for the day. However, he plans to restart on the morrow.
Karamjit had no such issues, though he had to come to terms with a suspension that had gone soft and some problems with the brakes. "We have had no punctures, no big problems. So, I'm pretty happy with our performance," said Karamjit.
Meanwhile, two top New Zealand entries, Geof Argyle (co-driver Steve Smith) of Racetech Seats and Andrew Hawkeswood (co-driver Paul Fallon) of Force Motorsport Ltd., dropped out of contention.
Argyle, in a Group A Evo 6.5, has had a wretched outing here. "I broke both the front struts today and had a puncture on SS-9 that cost me three minutes. So, it has been a disappointing Rally for me. Perhaps, I should have run on harder suspension, given the rough terrain here," said Argyle who is placed fifth Overall, but second in Group A, behind Karamjit.
Hawkeswood, also in a Group A Evo 6.5, retired after a puncture on SS-7 and broken strut on SS-8.
"I had broken two struts yesterday. So, I do not have any spares. It has been a disappointing APRC season for me, as I finished only two of the five rounds. Perhaps, I will take a year's break and come back in 2005," he said.
David Doppelreiter of Austria (co-driver Ola Floene of Norway), representing Team MRF Tyres, put in some fast times in his Group N Evo 7, to finish Leg 2 at fourth Overall, behind Karamjit, Kremer and 2002 Group N champion, Nico Caldarola (co-driver Paolo Cecchini) of Italy.
Provisional/unaudited classification after Leg 2:
APRC Overall: Team Petronas Eon Racing (Karamjit Singh/Allen Oh) 1 (3Hrs, 9mins, 29.3secs); Team MRF Tyres (Armin Kremer/Fred Berssen) 2 (3:10:59.0); Domenico Caldarola/Paolo Cecchini 3 (3:14:44.7); Team MRF Tyres (David Doppelreiter/Ola Floene) 4 (3:20:02.2); Team Racetech Seats (Geof Argyle/Steve Smith) 5 (3:29:15.1); Team Monster Sport Australia (Chris Atkinson/Ben Atkinson) 6 (3:33:03.2); Team Force Motorsport Ltd (Brian Green/Fleur Pedersen) 7 (3:43:54.5).
APRC Group N (unmodified): Kremer/Berssen 1; Caldarola/Cecchini 2; Doppelreiter/Floene 3.
Leg 2 Points: Karamjit Singh 3 pts; Kremer 2 pts; Caldarola 1 pt.
Total points after Leg 2: Kremer 5, Karamjit 5, Caldarola 2.