Former captain Rajpal Singh has taken his axing from the Indian team in his stride and is confident he will be recalled to the national squad after the Olympic qualifiers in Delhi [ Images ] later this month.
The 27-year-old Chandigarh player is also aiming to use the upcoming World Series Hockey to get the much needed match practise if and when he gets a call-up for national duty.
"I have played only one match in 2012 (in the recently held Test series at home against South Africa [ Images ]). I will get to play between 11 and 14 matches in World Series Hockey which will help me when I play international hockey again. I am confident I will be recalled (to the national squad)," Rajpal said on Friday.
Rajpal, an Arjuna Awardee and a member of the national squad that won the Junior World Cup in Hobart in 2001, was dropped from the 18-strong Indian squad which was picked on "form and fitness", according to chief coach Michael Nobbs, and has been replaced at the helm by goalkeeper Bharat Chhetri.
The right winger, who led India [ Images ] in the 2010 World Cup in Delhi, the Commonwealth Games [ Images ] (at Delhi) and the Asian Games (at Guangzhou) held later that year, will play for the Delhi Wizards in the February 29-April 2 US $2 million prize money WSH - a city-based franchise league floated jointly by Nimbus [ Get Quote ] Sport and the Indian Hockey Federation.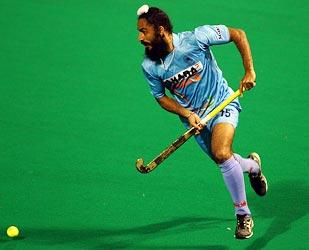 He underwent an appendix operation on October 31, 2011 and had been advised a rest of six weeks before he played in the Test series against South Africa last month.
Rajpal, who has been capped 147 times and scored 52 goals, said he does not know his current state of fitness though he felt fine when he turned out against the Proteas in the Test series.
"I felt my fitness was okay when I played in the Test series. I would not know how fit I am unless I am given a proper fitness test. I am training daily for 2-3 hours, both on my fitness and skills, in Chandigarh," said the man, who led India to the 2010 title triumph in the Azlan Shah Cup tournament in Ipoh, Malaysia.
Rajpal does not think that he has been dropped after he was on the forefront of the players' revolt against what they considered as pittance (the award announced) by Hockey India, the body recognised by the International Hockey Federation, for winning the inaugural Asian Champions Trophy [ Images ] by beating Pakistan last year.
"I don't think the selectors would have dropped me for that reason," said the Grade A (Rs 10 lakh) signee for the inaugural WSH.
Rajpal is optimistic about India qualifying for this year's London [ Images ] Olympics [ Images ] through the February 18-26 qualifiers in Delhi.
"We have very good chances to qualify. Our main threats are Canada [ Images ] and France [ Images ] who, I feel, can be tough opposition. We had a tough time against Canada when he went over there in 2009 and though we won the Test series against France in 2010 they proved to be a tough opposition," said Rajpal.
The player, who had opposed the holding of WSH though he was a signee when it was originally planned in December-January as he felt it would be a distraction before the Olympic qualifiers, however, feels the new dates for the tournament are fine.
"The timing (after the qualifiers) is right," he said.