Lance Armstrong may be ready to admit to doping and say sorry for his actions but his old nemesis, former-World Anti-doping Agency (WADA) chief Dick Pound, does not expect any apologies coming his way.
"I doubt it very much," Pound said. "But if he did I guess if I thought he meant it, I might (accept it), I mean what's done is done."
Armstrong has already begun issuing some apologies, stopping by the offices of Livestrong, the cancer charity he founded, to tell staff he was sorry of the damage he has done to the foundation.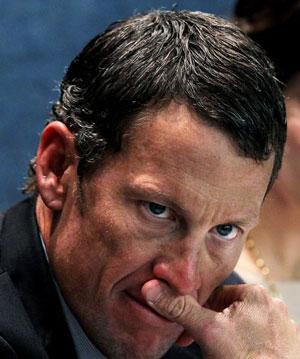 Armstrong is expected to offer a more public apology on Thursday when he appears in a television interview with Oprah Winfrey, who has already revealed he admitted using performance-enhancing drugs during a cycling career that saw him win seven consecutive Tour de France titles.
For Pound, Armstrong's admission would be the ultimate vindication for the long feud he had with a man he never actually met face-to-face.
Their battles became legendary, the confrontational Canadian tax lawyer and the prickly rider both refusing to concede an inch of ground.
Armstrong even campaigned to have him removed as the head of WADA and tossed out of the International Olympic Committee (IOC).
While Pound challenged the cancer survivor to disprove the mounting evidence of widespread drug use in sport, a defiant Armstrong demanded the WADA chief produce proof he doped - something the former-Olympic swimmer was unable to do in the absence of a positive test.
"His efforts to get me kicked out of the IOC and get kicked out of WADA were spectacularly unsuccessful," said Pound.
When Pound eventually stepped down as WADA chief in 2007, he said his one bit of unfinished business was exposing Armstrong as a drug cheat.
Five years later, the United States Anti-Doping Agency (USADA) delivered the damming evidence, producing a massive volume of evidence and describing him as the ringmaster of the "most sophisticated, professionalised and successful doping program that sport has ever seen".
"I've never met the guy," said Pound. "He called me out of the blue one day and he said, 'Dick, Lance Armstrong, I just want you to know I love my sport.'
"I said, 'it's a great sport but it's got a serious problem as you know and sometimes you need some tough love'.
"At that point it just trailed off and he ended up writing some general public letters about me being a rat about saying cyclists on the Tour are using drugs."
The exhaustive USADA investigation left no doubt that Armstrong's rise to the top of his sport was built on lies and fuelled by drugs.
But even Pound was able to muster some sympathy for an athlete who defeated cancer and tried to inspire others.
"The platform on which he built all this turns out not to be granite but manure," said Pound.
"As an athlete it is pretty clear he was a rigorous and relentless cheater and that he enforced it on his team.
"He certainly attempted to ruin a whole bunch of people around him, that's a very, very unattractive side of him.
"The other side is, he is a guy who dodged a bullet in the cancer side of things and done, in his own way, tried to raise awareness of cancer in the greater community and that's good work.
"Nobody is either all bad or all good."