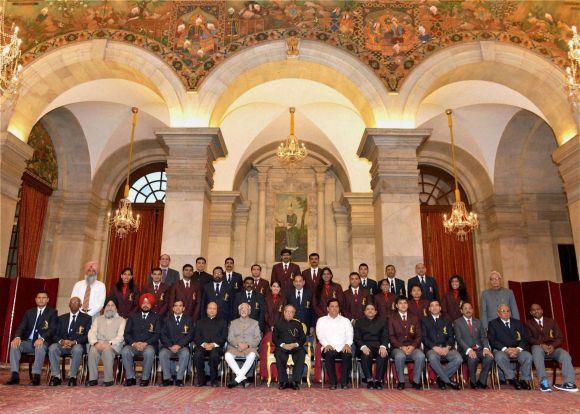 President Pranab Mukherjee, vice-president Mohd. Hamid Ansari and Minister of State for Skill Development, Entrepreneurship, Youth Affairs and Sports (Independent Charge) Sarbananda Sonowal with the sports and adventure awardees. Photograph: PTI
The National Sports awards were presented by President Pranab Mukherjee at Rashtrapati Bhawan on Friday.
Like past editions, selection controversies cast a shadow on the ceremony and matters came to a head when boxer Manoj Kumar dragged the Sports Ministry to court after being overlooked for the Arjuna award despite qualifying in the new points system.
No Khel Ratna award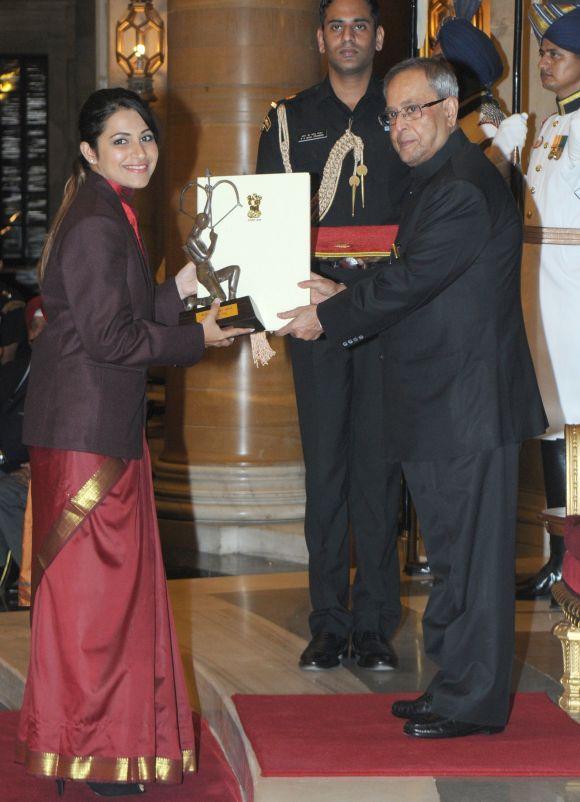 President Pranab Mukherjee presents the Arjuna award to shooter Heena Sidhu. Photograph: PIB
Add to this, the awards' selection committee could not find any athlete worthy of the country's highest sporting honour, the Rajiv Gandhi Khel Ratna, this year.
None of the seven candidates whose names were forwarded to the committee, got the 12-member panel's nod, making it the first time since 1994 that no sportsperson was named for the top award.
Ashwin missed the award ceremony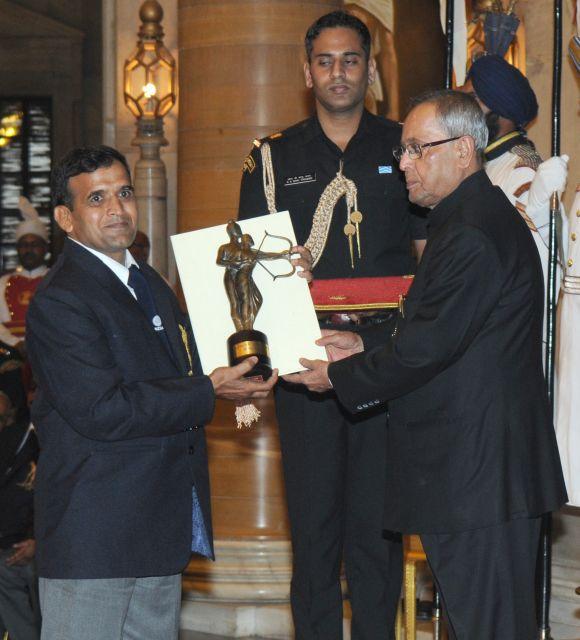 President Pranab Mukherjee presents the Dronacharya award to coach Mahabir Prasad for wrestling. Photograph: PIB
Controversies aside, the ceremony followed long-standing tradition as the awardees walked up to to receive their respective honours from the President amid resounding applause from the dignitaries present, including vice-president Mohd Hamid Ansari and Sports Minister Sarbananda Sonowal.
A notable absentee from the ceremony was cricketer Ravichandran Ashwin. The off-spinner could not make it as he is currently on duty in England for the ongoing One-Day International series.
Luka, Girisha, Diju honoured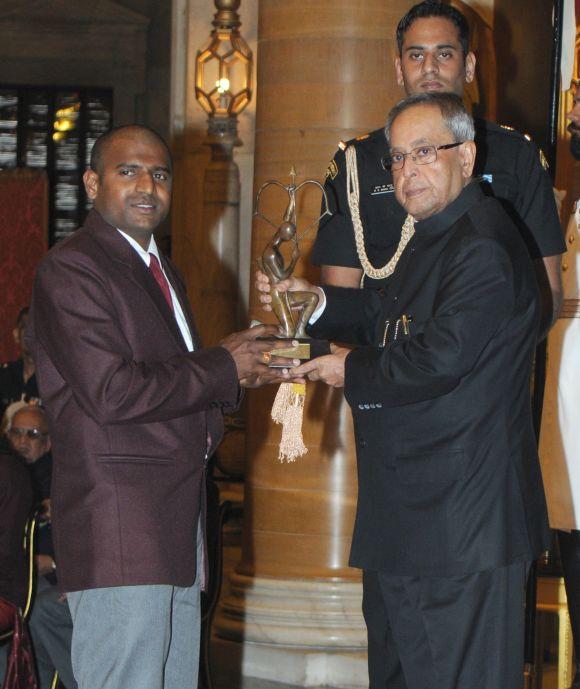 President Pranab Mukherjee presents the Arjuna award to H N Grisha for Para-Athletics. Photograph: PIB
The others who were bestowed the honour were Akhilesh Varma (archery), Tintu Luka (athletics), H N Girisha (paralympics), V Diju (badminton), Geetu Ann Jose (basketball), Jai Bhagwan (boxing), Anirban Lahiri (golf), Mamta Pujari (kabaddi), Saji Thomas (rowing), Heena Sidhu (shooting), Anaka Alankamony (squash), Tom Joseph (volleyball), Renubala Chanu (weightlifting) and Sunil Rana (wrestling).
Inclusion of Jai Bhagwan, Alankamony had raised few eyebrows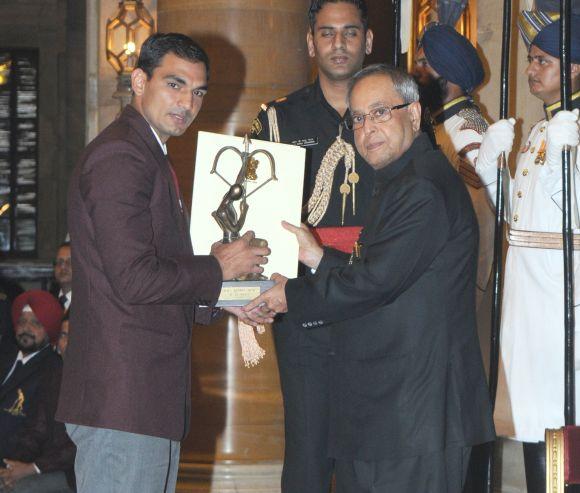 President Pranab Mukherjee presents the Arjuna award to boxer Jai Bhagwan. Photograph: PIB
Picking 2010 Commonwealth Games bronze-medallist Jai Bhagwan and ignoring the gold-medallist from the same event, Manoj Kumar, had led to a massive controversy ahead of the awards. Twenty-year-old squash player Alankamony's inclusion in the list also raised eyebrows.
Kumar, with 32 points, had maximum points among the boxers who applied for the honour, two more than Bhagwan.