Andy Murray's winning streak came to an end when the world number three slumped to a 4-6, 7-6, 6-4 quarter-final defeat at the Paris Masters after a three-hour tussle against the fifth-seeded Czech Tomas Berdych on Friday.
British second seed Murray, who was on a 17-match winning run, was two points from victory at 5-5 in the second set tiebreak but Berdych kept his composure to set up a meeting with Roger Federer, who beat Argentina's Juan Monaco 6-3, 7-5.
World number four Federer found himself trailing 3-1 in the opening set but the Swiss 16-times Grand Slam champion reeled off five games in a row to take the lead.
He was made to wait in the second set, breaking only in the 11th game before wrapping it up with an ace for his 800th win on the tour -- still a far cry from Jimmy Connors's record of 1242.
"It's nice. It's a lot of matches, a lot of tennis I've played, I know that," Federer told reporters.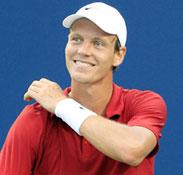 "But I know there are many other players that have played more tennis than I have. So it's just another win, but it's a special one nevertheless, because 800 is a big number."
France's Jo-Wilfried Tsonga was given a walkover by world number one Novak Djokovic who pulled out with a shoulder injury before their quarter-final match.
Tsonga will face John Isner after the big-serving American beat Spanish fourth seed David Ferrer 6-3, 3-6, 6-3.
Murray and 2005 Paris Masters champion Berdych, however, provided the Bercy crowd with a good, old-fashioned dogfight.
"I also enjoyed Berdych and Murray's match. I thought they played better tennis than we did today," said Federer.
The Scot, who withdrew from the Swiss Indoors in Basel last week with injury, claimed a hat-trick of titles during the Asian swing but Berdych ended his hopes of arriving at the ATP World Tour finals in London with another piece of silverware.
"He didn't miss a first serve I don't think on any of the break points," Murray told a press conference. "On this surface that's a huge advantage. A couple of times he hit a forehand bang onto the line, and you can't do too much about that.
"So it's easy to say, yeah, you had opportunities, but it's what -- how he plays on them. If he plays well, can't do much about it."
Murray staved off three break points early on, then stole Berdych's serve on his second opportunity with a powerful passing winner in the seventh game.
FRUSTRATION
Berdych then saved seven set points, but Murray bagged the opener on his service game on his ninth attempt with a fine crosscourt forehand winner.
Berdych's forehand began to fire in the second set and he sent down some sizzling returns to move 3-0 ahead.
A bout of nerves, however, cost him a break just as he served to level the tie at 5-3, but the Czech regained his composure in the tiebreak which he won 7-5.
Murray's frustration boiled over in the third set with one rant at the umpire after Berdych was awarded new balls, while facing two break points.
"Tomas decided that the balls were too soft -- which they weren't," he explained.
"The umpire gave him three brand new balls to serve with... I wasn't aware that they were just changing three brand new balls. Then that totally changed the way the ball plays and the court plays. That was what happened. I just asked, Is it not normal to let the opponent also see the balls?"
Murray got a warning in the process.
"Actually I said bollocks to the chair umpire and that got me a warning," Murray explained. "I have been to watch a lot of football matches and you say a lot worse than that and you don't get a yellow card."
Berdych broke decisively in the ninth game of the deciding set when Murray served a double fault just as the clock ticked past the three-hour mark.
He followed up on serve, ending the contest after three hours 12 minutes on his second match point when Murray sent a forehand wide.
"There was everything in that match. There were long games, long rallies...," Berdych, who has qualified for the ATP World Tour finals, told reporters. "I was feeling great."