Even as Leander Paes maintains silence over the recent crisis brewing in Indian tennis, his father, former Olympian Dr Vece Paes, has pitched in strongly for the Davis Cup captain, saying Leander's honesty and sincerity is hurting him.
On Sunday, the tennis fraternity woke up to the news of rebellion in the national team's ranks. Four Davis Cuppers, including India's top singles players, Prakash Amritraj and Rohan Bopanna, wrote to the All India Tennis Association saying they will not play if Paes is persisted with as captain.
"There is always tension when you play Davis Cup," said Dr Paes told rediff.com from Kuala Lumpur.
"But the only times it has spilled over was during the Asian Games (Doha 2006) and now (against Uzbekistan). Both the times when Mahesh (Bhupathi) was there. The team didn't have any problems with Leander last year."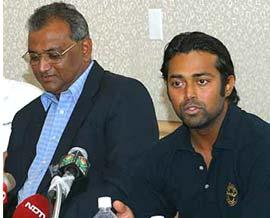 Amritraj and Bopanna, while insisting that their stand has nothing to do with earlier clashes between Paes and Bhupathi, had said the captain is putting his interests above the team's.
Paes had chosen debutant Somdev Dev Varman over India No 1 Amritraj for the first singles against Uzbekistan, in the recently-concluded tie in Delhi. Amritraj, termed "unprofessional" by his captain, was then fielded for the reverse singles and he rescued India with a 6-3, 3-6, 6-3, 6-2 win over Farrukh Dustov.
That decision to keep Amritraj out was seen as the last straw in the growing unrest against Paes.
"What happened during the Uzbekistan tie had nothing to do with Leander," said Dr. Paes, who was with the team as doctor.
"Prakash was the one who went to the media saying that he was fit. I knew how sick he was; he came on Tuesday morning unwell. He had some 15 diarrhoeas and 15 vomits, which we took two days to control. There was no way he was going to be fit for the first singles on Friday.
"People talk a lot about the lifestyle of tennis players, but when you've joined the team, going out to party ahead of a Davis Cup match is not on.
"Leander made the decision not to play him on our advice and, as it happened, it turned out to be the right one. So where was he trying to be critical of his players or undermining them? He made a simple honest statement and that seems to be hurting him.
"He takes decisions for his team and sometimes some players feel slighted by that. I think Amritraj believed that he was a fixed player in the singles, and since his father (Vijay Amritraj) was there it could've put extra pressure on him.
"Leander didn't object to Prakash or Mahesh being interviewed. As a rule, only the captain is allowed to speak to the media."
Dr Paes also defended Leander's decision to play the live fifth rubbers against Pakistan in 2006 and Kazakhstan in 2007, both times in relegation play-offs.
Among their grievances against Leander, Amritraj and Bopanna have said that the captain was trying to hog the limelight by playing those matches, which they could have won easily.
"The fact was that Rohan had lost his first singles (against Pakistan's Aisam Qureshi) and was not high on confidence. Plus the conditions were hot and humid there.
"Leander always thinks he has a chance on grass. The tie was 2-2 and we were in trouble. It was a hard and professional decision; he stepped in and won the match for India. If he had lost the matches and then you could've criticised him."
The former hockey ace recalled an incident involving Harsh Mankad in 2005, when Paes let the youngster play the last reverse singles when he could have played it and created a Cup record.
Having registered 74 overall wins in Davis Cup, Leander needed one more win to go past Brazilian Tomas Koch but the captain opted to play Mankad against Murad Inoyatov in the final rubber in Jaipur.
On Leander's overbearing presence on Indian tennis, Dr Paes said he played a part only during the Davis Cup weeks.
"Leander has a respected role in the AITA. He never interferes with the team selection, which is done by the committee, but once the team is in his hands he takes the decisions in the interest of his country."
While hoping the issue is sorted out soon, Dr Paes assured that Leander will continue to play for India.
"He has always said he will be available for India. About this issue, he will do what he thinks is right, whether or not we agree with him."