Leander Paes's dream of winning the ATP year-end finals remains unfulfilled. The veteran Indian, partnering Radek Stepanek, crashed out of the prestigious event after losing a must-win Group B match in London on Friday.
Seventh seeds Paes and Stepanek lost their final Group B match 6-4, 6-7(5), 8-10 to the Spanish pair of Mark Lopez and Marcel Granollers in an hour and 49 minutes.
Paes had qualified for the season finale for the 14th time, having finished runner-up with compatriot Mahesh Bhupathi in 1997, 1999 and 2000, and in 2005 with Serbia's Nenad Zimonjic.
Paes-Stepanek, the US Open winners, conceded 35 games, the highest in their Group in three matches, and even if Alexander Peya and Bruno Soares had lost to David Marrero and Fernando Verdasco later in the evening, the seventh seeds would not have qualified for the semi-finals.
Peya and Soares won Group B and were joined in the semi-finals by David Marrero and Fernando Verdasco, who finished in second position.
Second seeds Peya-Soares completed round-robin play with a 2-1 record after they defeated sixth seeds Marrero-Verdasco 6-3, 7-5 in 68 minutes during Friday's evening session.
If Peya-Soares had lost, three teams would have had a 1-2 win record and qualification would have gone down to the number of games conceded in the group stage as per the format of the tournament.
Lopez-Granollers conceded 34 games, one less than Paes-Stepanek.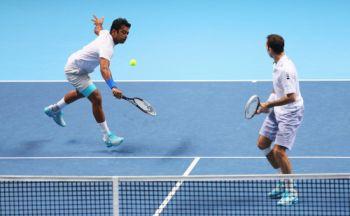 Paes-Stepanek thus ended their season together with a 15-8 match record, which includes winning the US Open.
In Friday's match, Lopez-Paes each saved three break-point opportunities, including deciding deuce points, in the third and fourth games of the first set.
Stepanek earned the first break of serve when he anticipated a Granollers backhand by rushing across the court to hit a high forehand volley winner at 30-40 on Granollers's serve.
Paes-Stepanek could have led 5-2, but Lopez was quick in striking a cross-court forehand off-balance into the narrowest of gaps.
Stepanek went on to clinch the 38-minute opener with a solid hold to 15 as Paes belied his 40 years with a number of athletic volleys.
The Spaniards, 0-2 in previous matches this week, came under pressure again at the start of the second set, but Granollers survived a deciding point at deuce, with a body serve to Stepanek, who was broken on his own deciding point in the fourth game.
Granollers-Lopez earned a confidence-boosting hold for 4-1, before Paes-Stepanek mounted a comeback by hurrying Lopez into error at 4-2, 30-40 to get the set back on serve. In the tie-break, Granollers struck a backhand volley winner off a Lopez second serve at 6-5.
Paes-Stepanek targeted Lopez in the longer rallies early on in the match tie-break. Paes, where possible, took risks and snapped up half chances close to the net.
The duo led 3-1, but Granollers and Lopez regained their composure to win seven of the next eight points, combining ground-stroke power with outstanding net play reactions, for an 8-4 advantage. The
duo clinched their third match point opportunity for their 31st win in 54 matches as a team in 2013.
Image: Leander Paes and Radek Stepanek
Photograph: Clive Brunskill/Getty Images