The 11th edition of the ATP Chennai Open, to be held from January 1 to 7, promises to be bigger and better.
The impressive player field, led by world number two Rafael Nadal and Argentina's David Nalbandian, is arguably the best in the history of the tournament. As many as 29 sponsors have lined up for the event and there is also Miss Earth Afghanistan 2003, Vida Samadzai gracing the week-long event.
India's first ATP International Series Tennis tournament will also be reaching to a worldwide audience in 2007.
Chennai Open 2007 will be telecast through 7 top international TV channels reaching more than one billion households across 140 countries worldwide. Canal +: Spain, SNTV, Fox TV, Argentina, Trans World Sports, Viasat – Scandinavia (Viasat Sport Sweden, Viasat Sport Denmark and Viasat Sport Norway) and Bet & Win from Germany will broadcast the tournament.
Following is a synonpsis of the ATP event:
Chennai Open Roll of Honor
SINGLES                                     DOUBLES
2006    Ivan Ljubicic                       Michael Mertinak / Petr Pala
2005    Carlos Moya                       Rainer Schuttler / Yen-Hsun Lu
2004    Carlos  Moya                      Rafael Nadal/Tommy Robredo
2003    Paradorn Srichaphan           Michael Kohlmann/Julian Knowles
2002    Guillermo Canas                  Mahesh Bhupathi/Leander Paes
2001    Michael Tabara                   Byron Black/Wayne Black
2000    Jerome Golmard                  Julien Boutter/Christophe Rochus
1999    Byron Black                        Mahesh Bhupathi/Leander Paes
1998    Patrick Rafter                      Mahesh Bhupathi /Leander Peas
1997    Mikael Tilstrom                   Mahesh Bhupathi/Leander Paes
1996    Thomas Enqvist                   Jonas Bjorkman/ Nicolas Kulti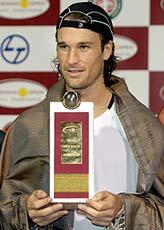 No.1 or No.2 Seed to Win:
Ivan Ljubucic (1) - 2006
Carlos Moya (1) - 2005
Carlos Moya (1) - 2004
Paradorn Srichaphan (2) - 2003
Guillermo Canas (1) - 2002
Patrick Rafter (1) - 1998
Thomas Enqvist (1) - 1996
Reaching Singles and Doubles Final in the Same Year:
Byron Black - 1996 (with Sandon Stolle)
Player to Reach Most Singles Finals:
Srichaphan Paradorn - 2002, 2003, 2004, 2005
Carlos Moya - 2004, 2005, 2006
Mikael Tillstrom - 1997, 1998
Byron Black - 1996, 1999
Longest Final in Games:
32 - 1997 - Mikael Tillstrom (6) def Alex Radulescu (5): 6-4, 4-6, 7-5
32 - 2004 - Carlos Moya (1) def Paradorn Srichaphan (2): 6-4, 3-6, 7-6
32 - 2005 - Carlos Moya (1) def Paradorn Srichaphan (2): 3-6, 6-4, 7-6
Longest Match in Games:
36 - 1999 - Peter Wessels def Sargis Sargsian 6-7, 7-6, 6-4
36 - 2005 - Nicolas Devilder def Marcos Baghdatis 6-4, 6-7, 7-6
Shortest Final in Games (other than a retirement):
16 - 2003 - Srichaphan Paradorn (2) def Karol Kucera 6-3, 6-1
Shortest Match in Games (other than a match retirement):
13 - 1998 - Mikael Tillstrom (5) def Oleg Ogorodov 6-1, 6-0
Top Seed to Lose in 1RD or 2RD:
1997 - Richard Krajicek (1) lost to Andrei Pavel 5-7, 3-6 - 2RD
2000 - Yevgeny Kafelnikov (1) lost to Michal Tabara 4-6, 2-6 - 1RD
2001 - Magnus Norman (1) lost to Dent Taylor 63 76/3 - 1 RD
Second Seed to Lose in 1RD or 2RD:
1997 - Thomas Enqvist (2) lost to Rainer Schuttler 6-6 rtd - 1RD
1999 - Karol Kucera (2) lost to Mikael Tillstrom 5-7 6-4 2-6 - 2 RD
2001 - Franco Squillari (2) lost to Mikhail Youzhny 67/4 61 62 - 1 RD
Defending Champion to Lose in 1RD or 2RD:
1997 - Thomas Enqvist (2) lost to Rainer Schuttler 6-6 rtd. - 1RD
2000 - Byron Black (5) lost to (Q) Jaime Delgado 2-6, 6-7 - 1RD
2001 - Jerome Golmard (5) lost to Adrian Voinea 76 67/3 61 - 2RD
Best Effort by a Wild Card, Qualifier, Special Exempt or Lucky Loser:
2006 - Wild Card - W - Ivan Ljubucic
2003 - Qualifier - QF - Tomas Behrend
2001 - Qualifier - SF - Kristian Pless
           Qualifier - QF - Cyril Saulnier
2000 - Qualifier - QF - Jaime Delgado
           Lucky Loser - QF - Toumas Ketola
1997 - Qualifier - QF - Rainer Schuttler
1996 - Wild Card - SF - Jonathan Stark
Most Often in Singles Main Draw:
Leander Paes - 1996, 1997, 1998, 1999, 2000, 2001, 2003
Mahesh Bhupathi - 1996, 1997, 1998, 1999, 2001
Jonathan Stark - 1996, 1997, 1998, 1999
Paradorn Srichaphan - 2002, 2003, 2004, 2005, 2006
Carlos Moya - 1999, 2004, 2005, 2006
Best Singles Record:
Paradorn Srichaphan 19-4
Carlos Moya 14-1
Top Seeded Team to Lose in 1RD or 2RD:
1998 - Woodforde / Woodbridge (1) lost to Clement/Golmard 6-7, 1-6 - 2RD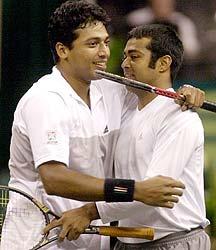 Doubles No.1 or No.2 Seeds to Win:
2002 - Mahesh Bhupathi / Leander Paes (1)
2001 - Byron / Wayne Black (1)
1999 - Bhupathi / Paes (1)
1998 - Bhupathi / Paes (2)
1996 - Bjorkman / Kulti (2)
Top Two Seeds in Doubles Final:
1996 - Bjorkman / Kulti (2) def B. Black / Stolle (1)
1999 - Bhupathi / Paes (1) def W. Black / Godwin (2)
Longest Doubles Final in Games:
37 - 2002 - Bhupathi / Paes def .Cibulec / Fekarek, 5-7, 6 -2, 7-5
Longest Doubles Match in Games:
36 - 1997 - Ogorodov / Ran def Leach/Stark (1) 6-7, 6-4, 7-6
Shortest Doubles Final in Games (other than a match retirement):
19 - 2000 - Boutter / Rochus def Panja / Prahlad 7-5, 6-1
Shortest Doubles Match in Games (other than a match retirement):
14 - 1998 - Luxa / Ran def Hilpert /Thomas 6-0, 6-2
14 - 2001 - Black, B / Black, W def Kutsenjo / Qureshi 6-2, 6-0
Doubles Team to Win Multiple Titles:
Bhupathi/Paes - 1997, 1998, 1999, 2002
Doubles Team to Reach Most Finals:
Bhupathi/Paes - 1997, 1998, 1999, 2002
Best Doubles Record for a Team:
Bhupathi/Paes 17-2 (one walkover does not count)
Best Effort by Players from India:
Singles - Leander Paes - SF - 1998
Doubles - Bhupathi / Paes - Won - 1997, 1998, 1999, 2002
 - Prakash /Bopanna - RU - 2006 
 - Panja / Prahlad - RU - 2000
 - Bhupathi / Paes - SF - 2001