With exactly a year left for the 2012 Olympics, in London, Olympic Gold Quest (OGQ), founded by sports legends Geet Sethi and Prakash Padukone, had their new website unveiled by actor Deepika Padukone, at a press conference in Delhi, on Tuesday.
The website www.olympicgoldquest.in, is designed by Chennai-based company Xerago.
Deepika, who is also a director of OGQ, spoke about her vision for the organization.
"My dream is to make OGQ into a movement. I want to help bring awareness to Olympic sports in India and Xerago have done a brilliant job of making the new OGQ website very vibrant, interactive, informative and easy to navigate.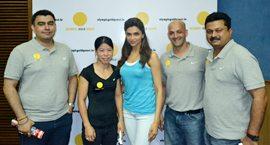 Olympic Gold Quest CEO Viren Rasquinha added, "Xerago is also helping us with an entire digital marketing platform and we will also be extensively engaging sports fans through Linkedin, Facebook and Twitter." 
Xerago's CMO Srinivas Chari said, "Xerago helps brands succeed with their marketing programs. We are helping OGQ digitally drive this movement to help India strike gold at the Olympics."
Rifle shooter Gagan Narang, who has been named for the nation's highest sporting honour, the Rajiv Gandhi Khel Ratna, and five-time World champion boxer M C Marykom were also present at the website launch. Both athletes are supported by OGQ.
OGQ also announced special plans for the London Games. It will be working closely with sports technology company Sports Mechanics to provide high-performance video analytical solutions to its athletes to aid their preparations.
Commenting on the importance of video analysis, Rasquinha said, "We will kick-start the expert video analysis program by Sports Mechanics by extending performance analytics to badminton player Saina Nehwal to increase her chances of winning a medal at the Olympics. This program will be extended to other OGQ athletes also in due course."
 He went on to add, "Having played a competitive fast-paced sport like hockey myself, I believe that expert video analysis is definitely required to give our athletes an 'extra edge' and to provide competitive intelligence to them.
"Sports Mechanics will be churning out intelligence about Saina's game as well as her opponent's games with the help of videos and data. "
Rasquinha also announced that Peak Performance and Mental Strength coach Abha Maryada Banerjee will be working with five OGQ athletes in preparation for the Olympics.
India's former hockey captain praised the trainer.
"Abha Maryada Banerjee has done phenomenal work with rifle shooter Sanjeev Rajput in the last few months, which helped him win the World Cup gold medal recently, a performance which secured him an Olympic berth. We want her to work more extensively with four more of our athletes across badminton, boxing and archery as they have important Olympic qualifiers coming up. Her expertise will definitely help our athletes perform much better."
OGQ is also hiring the services of Kazakh masseur Kassenova Kacehoba specifically for its shooters.
Viren elaborated, "The shooters constantly get back and shoulder stiffness. In India, there are no masseurs with prior experience with working with shooters. Hence, on the recommendation of the rifle coach Stanislav Lapidus and our shooters themselves, we have opted for the Kazakh masseur as she understands the nuances of the sport having worked extensively with shooters before."
OGQ also announced its support for boxer Manoj Kumar (64kgs).
Rasquinha praised the work ethic of the boxer, saying, "Manoj won the CWG 2010 gold medal very convincingly, beating the British favourite in the final. We were very impressed with not just his talent but also his dedication and focus. Manoj has to first concentrate on the Olympic qualification, but we believe that he has the ability to be an Olympic champion." 
He added, "For our boxers, our physiotherapists and nutritionist will play the most important role."
Image (L-R): Gagan Naran, M.C. Mary Kom, Deepika Padukone, Viren Rasquinha and Ramky of Sports Mechanics at OGQ's website launch in Delhi.