When Brendan Hansen of the United States broke Kosuke Kitajima's world records in the 100m and 200m breatstroke just before the Olympics many said the Japanese swimmer's time at the top was up.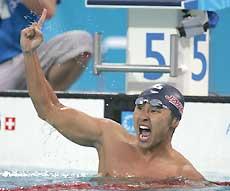 But Japan's double world champion responded in the best manner possible. He won the men's 100 metres breaststroke gold, edging his American rival by 17 hundredths of a second.
Kitajima did not regain the world mark in the final but his time of 1:00.08 was good enough for gold. In the process, he also claimed Japan's first Olympic swimming gold for 12 years.
Kitajima, the son of a Tokyo butcher, took to the pool at the age of four in a swimming club in a working-class neighbourhood.
Comparatively small at 177 centimeters (five foot 11) and 71 kilograms (156 pound), Kitajima is famous for his strong kicks in an "energy-saving" style, in contrast to Hansen's powerful strokes.
When his hands and feet are stretched to the limit, Kitajima's body is parallel to the surface, allowing him to minimise water resistance and maximize propulsion. He can swim with fewer strokes than his rivals.
The Japanese first confirmed his position as the rising name of men's breaststroke when he broke the 200m world record at the 2002 Asian Games in Busan, eclipsing the 10-year-old mark of American Mike Barrowman.
He, thus, became the first Asian man to hold a swimming world record since Nobutaka Taguchi held the 100m breaststroke record in 1972.
Kosuke Kitajima is our Olympian of the Day.
Also read: Li... and Behold