China's domination of Olympic diving faces its toughest test in two decades in Athens.
The Chinese have won at least one gold medal in diving at every Olympics since 1980 and they have taken 13 of the 20 gold medals on offer between 1988 and 2000.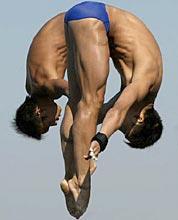 However, the retirement of their two greatest divers and the steady improvement by their main rivals have left the Chinese expecting a leaner haul in Athens.
Fu Mingxia, a child prodigy who forced officials to change the rules after she won her first world title aged just 12, retired after collecting a fourth Olympic gold medal in Sydney.
Xiong Ni, who won three gold medals over four Olympics, also called it a day after Sydney.
The new crop of Chinese divers have maintained the country's place at the top of the sport but the gap is narrowing fast.
China won five of the eight golds in diving at the Sydney Olympics, yet at last year's world championships in Barcelona they won just three of those events.
Russia, another traditional diving power, won two gold medals with Alexander Dobroskok taking the men's individual three-metre springboard then teaming up with Dmitry Sautin to win the synchronised springboard.
Canada, who have hired Chinese coaches to prepare their team, also won two titles with Alexandre Despatie taking the men's platform and Emilie Haymans winning the women's equivalent.
China are preparing to hit back, however. Tian Liang, who posted the highest ever score for a single dive on his way to winning the platform gold medal in Sydney, has been working on new moves with a higher degree of difficulty in preparation for the Olympics.
And the Chinese have unearthed a teenager they hope will become the next Fu.
Li Ting, 17, teamed up with Lao Lishi to win the synchronised platform title in Barcelona and produced an eye-catching performance during her victory at the Canada Cup in May when she earned the rare distinction of perfect scores from every judge for one of her dives.