On September 25, 2000, millions of Australians celebrated one of the nation's greatest sporting triumphs with Cathy Freeman's rain-soaked win in the 400 metres at the Sydney Olympics.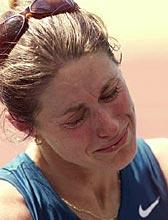 Three days later, Jane Saville held a comfortable lead in the 20 km walk. The golden-haired Australian was moments away from entering the Olympic Stadium for a final lap of deafening applause and her own moment of glory.
However, that golden scenario dissolved in tears when Saville was disqualified.
Descending the tunnel leading on to the track, the 25-year-old was given her third and final warning for failing to make continuous contact with the ground, leading to immediate disqualification.
The Sydney walker threw her arms up in horror and collapsed in tears. Asked later by reporters what she needed, Saville said: "A gun to shoot myself."
MORE HEARTBREAK
Disqualified again at the 2001 Edmonton world championships, Saville regrouped to win gold at the following year's Manchester Commonwealth Games.
In the Olympic team for next month's Athens Games, Saville will compete alongside her sister Natalie in the 20 km walk and says she has drawn positives from her Sydney setback.
"It was a horrible experience but it has helped me in the long run," Saville told a local newspaper recently.
"I had so much support from everyone in Sydney. They were boosting me and being really positive, so I didn't get too down and out."
Apart from making her stronger mentally, the disappointments of Sydney and Edmonton have also forced the walker to review her technique.
"A year later, when I got disqualified at the world champs, that was like, is it really worth it? It is just too much.
"It dented my confidence too but made me realise that physically, I could match it with the rest of the world.
"I just had to get my technique better and work on some of my weaknesses," she said.
After her travails in Sydney, Saville has decided to take a relaxed approach to Athens.
"In the long run it is all just sport and you have to put it in perspective. So we'll just go out and have some fun," Saville said.