The Indian Olympic Association General Body Meeting started off on a stormy note on Sunday with close to 50 demonstrators under the banner of Clean Sports India protesting against the association's officials, who have been chargesheeted in corruption cases.
The protests were held outside the venue of the meeting where the IOA is all set to ignore the IOC's directive to bar chargesheeted officials from contesting elections through constitutional amendments.
IOC representatives are also in attendance at the meeting where media has been so far denied entry.
The demonstrators shouted slogans against the IOA while holding placards criticising alleged corruption in the body.
'No place for criminals' and 'Retire at 70 like IOC members' were some of the messages on the placards which the protesters waved.
Clean Sports India president Ashwini Nachappa, convener BVP Rao, noted lawyer Rahul Mehra, former Asian marathon champion Sunita Godara and Indian Hockey Federation's patron and Chief Advisor K P S Gill were among those who attended the protest.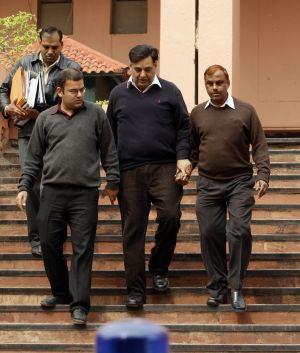 "These criminals in Indians sports should be thrown out. They are eating into the vitals of Indian sports," said Mehra.
"Criminals should have no place in Indian sports. Why make 70 as the age limit (for IOA officials), it should be 65. This GBM is unconstitutional and illegal," added Gill.
Mehra also took a dig at the IOC for leaving it to the IOA to apply the age and tenure restrictions on its members. The IOC had, on August 15, asked the IOA to amend its constitution incorporating the provisions to bar corruption-tainted persons from contesting elections proposed to be held next month.
It had subsequently warned of further action if the amendments were not carried out in Monday's General Body Meeting.
But the IOA, led by Abhey Singh Chautala and Lalit Bhanot, who were elected president and secretary general in the December 5 elections last year which were not recognised by the IOC, has remained defiant.
The likes of Bhanot and V K Verma, who were chargesheeted in the 2010 Commonwealth Games scam along with former IOA chief Suresh Kalmadi, would not be able to contest elections if the anti-graft amendments are incorporated.
It is learnt that majority of the IOA officials are opposed to the amendments proposed by the IOC and Monday's GBM may well turn out to be a mere forum where officials have a general discussion without taking any decision.
Image: Lalit Bhanot
Photograph: Parivartan Sharma/Reuters