Adrian Sutil [ Images ] finished 13th while team-mate Vitantonio Liuzzi retired after his car crashed with Michael Schumacher's [ Images ] Mercedes [ Images ] as Force India [ Images ] failed to collect a single point from the season-ending Abu Dhabi Grand Prix [ Images ] and end the Formula One championships at seventh in Abu Dhabi on Sunday.
Sutil, who started 14th at the grid, finished one-place above as he ended the eventful race 58.3 seconds adrift of the winner and 2010 F1 champion Sebastian Vettel [ Images ] of Red Bull, who collected 256 points, four more than Spaniard Fernando Alonso [ Images ] of Ferrari [ Images ].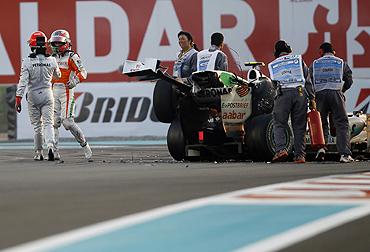 Liuzzi, on the other hand, had to retire after his car crashed into Schumacher's at lap two after the former seven-time champion German's mercedes came into his way.
Schumacher's car was spun around by his teammate Nico Rosberg [ Images ] and while he was trying to maneuver it back around, Liuzzi crashed over the top of him, spreading debris across the Yas Marina Circuit track. Liuzzi's Force India car landed inches away from Schumacher's head.
Both Liuzzi and Schumacher appeared to be unhurt in the collision.
Force India finished the season at seventh in the constructors standings with 68 points. Red Bull finished on top with 498 points.
With no point from the race on Sunday, Sutil failed to realise his aim of finishing in top 10 as he ended the championships at 11th on 47 points.
Liuzzi, on the other hand, finished in the 15th position on the drivers list with 21 points.