After enthralling the city's soccer fans for five days, the Lionel Messi-led Argentine team on Monday headed for Dhaka for a friendly match against Nigeria, winding up a historic trip to India during which the talismanic striker led his team for the first time in an international game.
The Argentines are scheduled to take on Nigeria for a friendly at the Bangabandhu Stadium in Dhaka on Tuesday.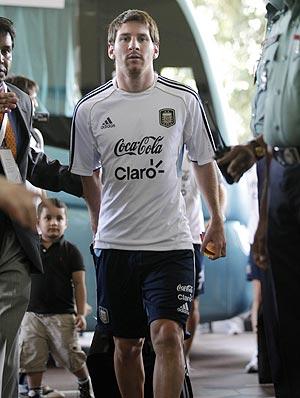 Football fans in Bangladesh, one of the world's poorest countries, have reacted in fury over ticket prices set at a minimum of USD 100 to see superstar Lionel Messi lead out Argentina in a friendly.
Messi's arrival from India is likely to trigger huge excitement in the nation of 150 million people.
But minimum ticket prices of 7,500 taka (100 dollars) and the expense of Eid celebrations last week marking the end of Ramadan could leave rows of empty seats at the 24,000-capacity Bangabandhu National Stadium.
The 23-member Argentine squad, with the team officials and coach Alejandro Sabella arrived at the airport in Kolkata in a bus amid tight security before taking off for the Bangladeshi capital.
Messi, who set up the winning goal for Argentina with a corner kick that was headed in by Nicolas Otamendi in their friendly against Venezuela, was the cynosure of all eyes during the team's stay in Kolkata.
The shy 24-year-old, unarguably the best footballer in the world right now, was his usual quiet self during the trip even though his presence in the city whipped up a frenzy.
Even while the team departed, there were quite a few Argentine fans who had gathered at the airport to bid Messi their goodbye.
They chanted his name as the team bus got in to the airport around 8.15 am to board a Dhaka-bound flight at 9.25 am.
During his five-day stay in Kolkata, Messi, who landed in the city on Wednesday, refrained from any promotional programme and gave a planned visit to the headquarters of Missionaries of charity, a miss even as his compatriots paid their homage at Mother Teresa's tomb located on the AJC Bose Road.
Messi also dodged the Indian media even though he spoke at length with the Argentine journalists.
This, in contrast to another Argentine idol Diego Maradona, who had spoken at length to the Indian media during his visit to the football crazy city about three years ago.
Famous World Cupper of then USSR, Lev Yashin, visited the city twice -- once with the Soviet team who toured India in 1955 and as a chief guest during the IFA Shield final in 1973.
But the city figured on the world soccer map when Brazilian great Pele along with Carlos Alberto toured for an exhibition tie against Mohun Bagan in 1977.
In the recent past, Oliver Kahn, Gerd Muller, Diego Maradona, Karl Heinze Rumminiege and Diego Forlan had graced the city.