Rafa Nadal kept alive his chances of ending his 11 month title drought by taming tenacious Argentine David Nalbandian 6-7, 6-2, 6-2 in the third round of the Sony Ericsson Open on Sunday.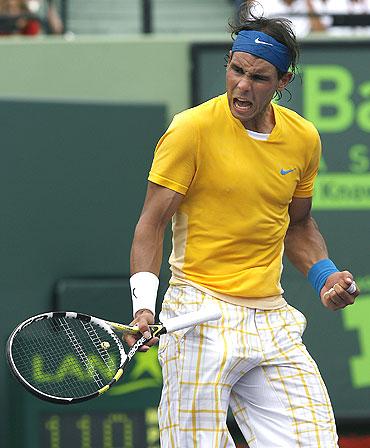 The fourth-seeded Nadal, who won his last title at the Rome Masters in May 2009, was harassed by Nalbandian for almost 2-½ hours before he finally secured his second win in four meetings against the South American.
"I had two very important losses to him before so it didn't surprise me how he played," Nadal said. "He's a tough opponent for everyone."
Nadal was troubled throughout the first set by the 161st-ranked wildcard, who is on a comeback trail after undergoing hip surgery 10 months ago.
"I'm very happy to see him back after important surgery," Nadal said.
"When he's playing at his best level he makes you feel like you are nothing in the middle of the court."
The two baseliners traded breaks in the set before wowing the crowd with their breathtaking shot making in the tiebreak.
After missing a set point at 8-7, Nadal blinked first and allowed Nalbandian to secure the set after an intensely fought final point.
Nadal picked up the pace for the final two sets and frustrated his opponent by unleashing some of the brutal shots that helped him to win six Grand Slam titles.
"I was a little bit unlucky in the first set," Nadal said. "I feel good physically and I think he was a little bit tired at the end."
Women's second seed Caroline Wozniacki, who was sick with a virus, outlasted Maria Kirilenko of Russia 1-6 6-1 6-4.
At 4-1 in the first set, Wozniacki felt dizzy and sought treatment with her blood pressure, pulse and heart rate monitored and her body was rubbed down with ice.
The treatment appeared to have worked and Wozniacki appeared revived in the second set and won all but the second game.
The third set was another struggle before Kirilenko double faulted at 30-40 in the ninth game to put Wozniacki in position to close out the match in the next game.
"Even though I didn't feel 100 percent, I still went out there and fought," Wozniacki said. "The third set I started to feel better."
Men's sixth seed Andy Roddick, who had to wait until after Nadal and Wozniacki had completed their victories, then wasted little time in demolishing Ukraine's Sergiy Stakhovsky 6-2 6-1 in 55 minutes.
"It's rare that you kind of walk off thinking everything kind of went the way that you wanted it to," Roddick said.
U.S. Open champion Kim Clijsters faced little resistance from Shahar Peer as she walloped the Israeli 6-0 6-1.
The 14th seed never faced a break point and led 6-0 3-0 before Peer held serve for the only time in the match.
"I had the feeling out there where your brain and your arm is kind of connecting," said Clijsters, explaining her focused play. "It's a nice feeling to have."
Ninth-seed Samantha Stosur of Australia defeated Virginie Razzano of France 4-6 7-5 6-1 while 11th seed Vera Zvonareva of Russia defeated Italy's Sara Errani 6-2 6-3 and Justine Henin took a 6-4 6-4 win over Dominika Cibulkova of Slovakia.