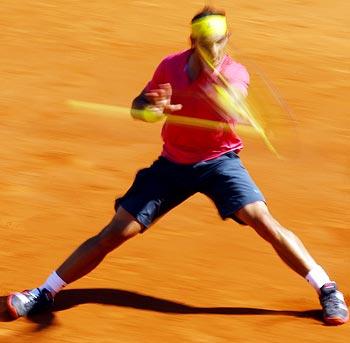 Rafael Nadal survived a battle of creaky knees against David Ferrer on Wednesday, the fellow Spaniard retiring hurt from their second round match at the Montreal Masters to gift the world number two a comeback win.
Sidelined for more than two months with tendonitis in both knees, Nadal's tender joints were in the spotlight for his first singles match since his shock loss to Sweden's Robin Soderling in the fourth round of the French Open in May.
But it was Ferrer's left knee that became the talking point after he abruptly retired when trailing 4-3 in the opening set.
Having betrayed little sign of discomfort, and having dominated play at times against his Davis Cup team mate, Ferrer's withdrawal prompted gasps and groans from the centre court crowd.
The 27-year-old world number 19 said he has aggravated a knee injury that had troubled him before Wimbledon.
"I had problems with my knee, I cannot play," Ferrer told reporters. "I've had the problem since before Wimbledon and I want to take some treatment," he said.
Ferrer's retirement whisked Nadal into a third-round meeting with Philipp Petzschner of Germany, but the brief 37-minute workout answered few questions about the former world number one's own fitness.
"I need more days to have a real test but it was ok," Nadal said. "I tried everything 100 percent but when you come back from injury, it's difficult to move well the first match.
"Everything is positive, every match, every point. Everything is helping me be ready as soon as possible to return to my level.
"I have another chance tomorrow to continue to improve."
Ferrer's retirement capped an abbreviated evening session at the Stade Uniprix complex which saw Germany's Tommy Haas also quit against Chilean 11th seed Fernando Gonzalez due to blisters.
Tennis fans got better value for money during the day session, when resurgent Spaniard Juan Carlos Ferrero defeated 13th seed Gael Monfils of France 6-3, 7-6 to move into the third round.
Having slipped outside the top 100 three months ago, former world number one Ferrero has struck form to claw his way back to number 29, and his defeat of Monfils sets up an intriguing meeting with third seed Andy Murray of Britain.
Ferrer said he had learned from his quarter-final loss to the Briton at Wimbledon.
"I'm here in the third round against Murray, it means I am playing well," Ferrero told reporters. "I know it is going to be very tough but I'm playing the way that I want to play.
American fifth seed Andy Roddick, another player enjoying a career revival this season, also advanced with a tidy 6-1, 7-6 win over Russian Igor Andreev.
Sixth-seeded Juan Martin Del Porto of Argentina defeated Czech Jan Hernych 6-2, 7-5, while seventh seed Jo-Wilfried Tsonga of France survived a scare to beat over Germany's Rainer Schuettler 4-6, 6-3, 6-4.
Spanish 10th seed Fernando Verdasco raced into the third round with a 6-1, 6-1 demolition of Argentina's Leonardo Mayer.