The National Anti Doping Agency conducted a raid at the Sports Authority of India at Bangalore on Monday evening and found incriminating material, such as steroids and alcohol, in some of the rooms.
The raid was conducted on Monday evening by a NADA team which is under the Central government. Sources say that during the raid the officials found steroids and alcohol in some rooms. The raid was headed by the joint director of the agency.
During the raid, the team inspected 57 rooms in the hostel and questioned several occupants. In addition to this they also conducted blood tests on at least 100 athletes at the hostel. No arrests were, however, made.
The team, headed by Dr V Jayaraman, searched the rooms of the campers, took urine samples for testing and checked the medical supplies at the centre, SAI sources said.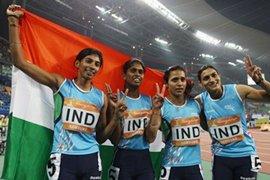 The raid was part of the countrywide crackdown on doping in sports following the recent doping scandal involving eight Indian track and field athletes.
NADA had last week conducted a surprise raid at the rooms of campers and coaches at the National Institute of Sports, Patiala and took urine samples from the sportspersons training there for testing.
NADA sources said that such raids are likely to be conducted in other SAI Centres also.
The Bangalore SAI Centre has trainees from various disciplines, including track and field athletes, women weightlifters and hockey players.
Eight track and field athletes tested positive for anabolic steroids in one of the worst doping scandals in the country.
Mandeep Kaur, Sini Jose and Ashwini Akkunji, who were part of the 4x400m relay quartet that won gold in the Commonwealth and Asian Games last year, and three other quartermilers Jauna Murmu, Tiana Mary Thomas and Priyanka Panwar trained at NIS Patiala.
Of the other two dope-tainted athletes, long jumper Hari Krishnan Muralidharan trained at Pune while Sonia was not in any national camp.
With inputs from PTI