Grunt, squeal and moan preceded game, set and match as noisy Portuguese teenager Michelle Larcher de Brito was silenced by France's Aravane Rezai 7-6 6-2 in the French Open third round on Friday.
Sounding like she was having a particularly troublesome tooth extracted without anaesthetic every time she played a point, the 16-year-old Portuguese qualifier drove her opponent to complain to the umpire several times during the match.
"She really shouts loud. Maybe it's the way she tries to impress the opponent, but it really did upset me because it was really unpleasant," Rezai told a news conference.
"I think the umpire did not really do his job, and so I told the referee. It's a pity, because she really plays well. She's talented, she fights but she still has a lot to learn. She's very young, and I think she's just going through a phase."
The Portuguese did not just shriek as she hit the ball but also yelped when her opponent sent her shots long. She also annoyed the partisan crowd with her bad-tempered racket slamming when she was frustrated.
DROWN OUT
But even the boos could not drown her out.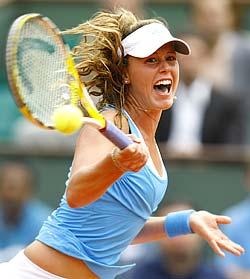 "I can do nothing about it," the grand slam debutante, ranked 132 in the world, protested during the match.
"It's part of my game. I can't really all of a sudden stop grunting," she later told a news conference.
"I mean, I could, but it won't feel natural because it feels like it's something missing in my game if I just stop."
Retaliating with some grunts of her own, the 57th-ranked Rezai managed to tune out long enough to win the first set tiebreak before racing through the second set.
Larcher de Brito trains at the Nick Bollettieri tennis academy in Florida which has produced grand slam winners like Maria Sharapova, another noisy player.
"I said to the umpire, he doesn't tell Maria to keep quiet," said the Portuguese.
"When she (Rezai) was winning she never complained. Only when I started to get my game going, I started winning games, then all of a sudden my noise is a nuisance."
Listing Monica Seles, one of the original grunters, as one of her idols, Larcher de Brito had become the first Portuguese player to advance to the third round of a grand slam event.
Ears ringing, Rezai could barely look at her opponent as they shook hands curtly at the end.
Photograph: Reuters