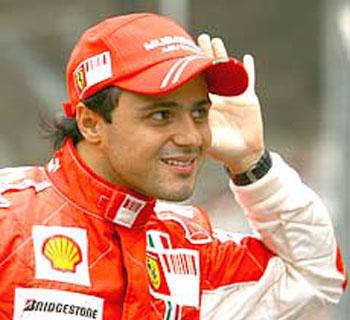 Brazilian Formula One driver Felipe Massa has said he knew that disgraced former Renault driver Nelson Piquet Junior had deliberately crashed his car and confronted him about it before it was exposed.
Massa said that he had doubts about the 2008 Singapore Grand Prix ever since it happened two years ago, and revealed how he confronted Piquet Junior and Former Renault boss Flavio Briatore on the matter. 
"I spoke to him, yeah. I spoke to him before. We were going together to drive go-karts in Italy and I asked him about Singapore -- I wanted to hear the right story because I was thinking that the combination of events was so perfect for Renault, what happened in that race," News of the World quoted Massa, as saying.
 
"And he was laughing, he didn't want to say the truth. I said 'okay, you're laughing, but I understood. Maybe one day we'll speak again'. And after one month or less, the story came back in the press. I even spoke to Flavio about that in Bahrain last year. I asked Flavio about Singapore and he said 'no, no, it's impossible' and he was even trying to laugh sometimes," he added.
Massa further said that the FIA should have scrapped the points from the 2008 Singapore Grand Prix, once they discovered the race had been fixed, which meant that he would have won the 2008 title.
Earlier in October 2009, Piquet Junior had claimed that Briatore had "threatened" to withdraw his contract unless he agreed to purposefully crash during the 2008 Singapore Grand Prix.
In what has become known as 'crashgate', the French manufacturer was found guilty of causing an accident to aid the cause of their driver Fernando Alonso, who went on to win the race.
The allegations cost Briatore and executive director of engineering Pat Symonds their jobs, with the pair stepping down from their posts shortly after details of the incident were made public.
Renault was subsequently given a disqualification suspended until the end of the 2011 season for their role in the crash.