Chileans thrilled with their place in the 2010 World Cup finals will flock to the National stadium on Wednesday looking to celebrate with their team and give a show of thanks to coach Marcelo Bielsa.
Chile, who booked their place at the finals in South Africa with a game to spare when they won 4-2 away to Colombia on Saturday, face Ecuador who need a win for a chance of reaching a playoff against a team from the CONCACAF region.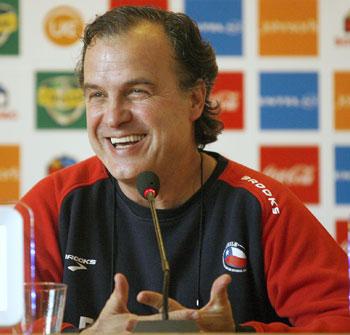 Bielsa, who took charge of Chile in Aug. 2007, has also achieved several firsts: a first competitive victory over Argentina, a first win against Peru in Lima in 24 years and a first victory against Paraguay in Asuncion in 28 years.
The Argentine's methodical coaching and penchant for discipline have had a profound effect on Chile's team and beyond, his coaching concepts having transcended sport into the realms of business and politics.
Chileans captivated by Bielsa's work ethic have even begun a campaign for him to run for their country's presidency in the December election even if as a foreigner he is not allowed to.
"It started out as a half serious and half joking question of why there hasn't been a political revolution like the one Bielsa has created in football," said Manuel Ojeda, a sociology student who helped launch an Internet campaign for Bielsa's candidacy.
"We wondered how we could extrapolate his values to other areas of Chilean society."
The Bielsa for president website www.charlatecnica.cl has attracted thousands of followers, Ojeda said.
The tough-love tactics used by Bielsa has captivated some presidential contenders who admit to having infused his style of directness and discipline into their campaigns.
AVID STUDENT
Bielsa, a journeyman player who began his coaching career at Newell's Old Boys, is an obsessive student of the game who claims to have watched 25,000 games on video, found 28 ways of lining up a team, 11 ways of reaching goal and 17 defensive ploys.
"Goals have a similar matrix that always reproduces itself so I know that they will occur in a determined way," Bielsa said.
"The same goes for defensive moves, which is the result of looking at the same thing an infinity of times. But that doesn't mean that I believe football is mathematical and mechanical."
The younger brother of former Argentine Foreign Minister Rafael Bielsa, he has been invited to speak at conferences on management, where he gets standing ovations, and been the subject of columns in non-sporting sections of newspapers.
He does not, however, like the direction soccer is taking commercially.
"Football has nothing to do with the world of business, even if it might be a business within its confines (as a sport)," he told a recent conference. "I don't like what it has turned into because there is an implicit risk in that commercial vision.
"One day a powerful Colo Colo fan will buy 'The U' (Universidad de Chile) and close it down or a powerful 'U' supporter will buy Colo Colo and shut it down."
He said the loss of the emotional link to teams in a commercial soccer world would lead to failure.
"Football will continue to live without coaches, without directors, without footballers and without spectators, but it can't continue to live without a badge because the badge is what is emotive."