Quarter-miler Mandeep Kaur, who flunked an out-of-competition dope test, conducted by the International Association of Athletics Federations (IAAF), denied taking any steroids knowingly.
"I am in the International Registered Testing Pool of the WADA after the Asian Games and I am not a mad person that I would take steroids to enhance performance.
"Steroids remain inside the body for three months. How can any athlete who is in the international testing pool take drugs?" a teary-eyed Mandeep, who won gold at the Commonwealth and Asian Games' 4x400m relay, asked reporters on Friday.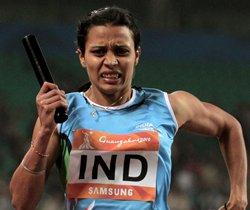 Mandeep was suspended after flunking the out-of-competition dope test and faces a two-year ban.
The 'B' samples of the tests, conducted by the IAAF, returned positive for anabolic steroids.
Mandeep's 'B' sample had adverse analytical findings for epimethandiol, metabolites of methandienone and stanozolol.
Mandeep said she suspected that the banned substances were present in the food supplements and vitamins she had taken from outside the NIS Patiala, where the athletes were training.
"I suspect the food supplements, vitamins we took, could have created the problems. We don't have a doctor and we don't know which drug can create problems. We ourselves can't become doctors," Mandeep said.
"We bought the supplements and vitamins ourselves and I want them to be tested whether they contain steroids," she added.
Stating that she had never faced a situation like this during her career, the 23-year-old said, "I had not taken any banned substance in my career. I have been running at the top level for the last 6-7 years and this is the first time it is happening.
"Why should I do something which would taint the reputation of my family?"
The development is a huge setback for the country, as it would be difficult for India to qualify for the London Olympics in the women's 4x400m relay, as Mandeep is an important member of the quartet for some time.