Victoria Azarenka and Serena Williams will square off for the Madrid Open title after the current and former World No. 1's swept into the final with a minimum of fuss on Saturday.
Australian Open champion Azarenka took a step closer to a fifth title of 2012 when she dispatched Agnieszka Radwanska 6-2, 6-4, before Williams, seeded ninth at the premier event in the Spanish capital, crushed Czech qualifier Lucie Hradecka 7-6, 6-0.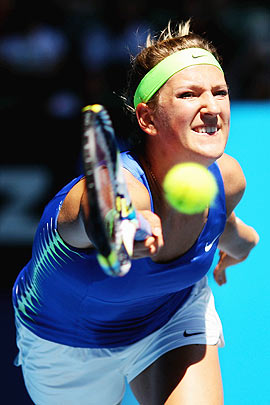 Belarussian Azarenka has now beaten third-ranked Pole Radwanska six times in six meetings this year and rarely looked troubled as she seeks to improve on her runners-up finish last year to Petra Kvitova.
She battered 29 winners on the blue clay of the Manolo Santana show court, each accompanied by a trademark shriek of effort, before reflecting on her 6-1 losing record against Williams, who last topped the rankings in October 2010.
"I was much younger and just coming on the tour (for many of our matches) but I have always been competitive against her and she is one of the toughest opponents to play against," Azarenka said.
"It's going to be a different story this time," the 22-year-old, who was beaten 6-1, 7-6 by Williams in the US Open third round last year, added.
Azarenka has already netted more than $4 million in prize money this year and her only two defeats in 36 matches were to Frenchwoman Marion Bartoli in the last eight in Miami and Maria Sharapova in the Stuttgart final.
Photograph: Ryan Pierse/Getty Images