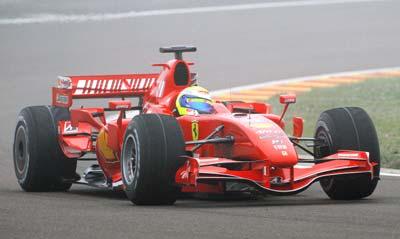 It's got a narrower posterior, a sculpted carbon fibre gearbox, and a significantly longer wheelbase. And it's scorching hot.
The new Ferrari F2007 is a stunning piece of work, a visual delight capable of revving up to 19,000 rpm. The revised bright-yellow sidepods have fans thrilled already, but the real beast lies within the hood. While prospects of the new engine are salivating, a true response can be had only a few weeks into testing.
Felipe Massa raved all about his new scarlet wheels in the Ferrari press release, the 25-year-old Brazilian saying, 'The car is beautiful and I have a good feeling about it.'
As well he should, for if Ferrari's claims are to be believed, he will be sharing equal priority with Kimi Raikonnen. The team has confirmed that they will be customising spare cars for both Massa and Raikonnen on an alternate race basis -- a big departure from team tradition, which saw the spare car being a Michael Schumacher ride.
Of course, great curiosity still remains about the German ex-racer's role at Ferrari. Team boss Jean Todt winked when asked if Michael would do some test driving with the F2007. 'If Michael asks to drive the car, we'll find a racing suit for him with pleasure.'
Photograph: Getty Images
Felipe Massa tests the new Ferrari