The Indian men's archery team was knocked out of the Olympic Games after losing to Japan in a tense pre-quarterfinal shoot-off at the Lord's Cricket Ground, on Saturday.
The trio of Jayanta Talukdar, Rahul Banerjee and Tarundeep Rai, who had qualified bottom of the heap at 12th in the rankings round on Friday, were tied with their Japanese rivals at 214 after the regulation four rounds.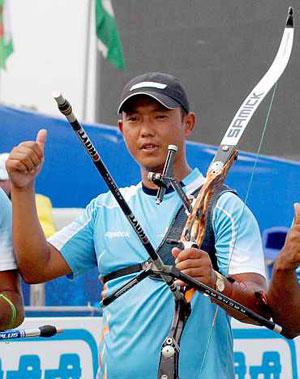 But the trio of Yu Ishizu, Hideki Kikuchi and Takaharu Furukawa edged the Indians 29-27 in the shoot-off in which each the archers shoot alternatively.
The Indians would be much disappointed as they were leading by two points in regulation play before the Japanese equalised to force a tie-breaker.
The three will now be seen in action in the individual eliminations rounds that will commence on Monday.
All eyes will next be on the women's team which will compete in the Eliminator on Sunday against Denmark.
The women's team was ranked ninth after preliminary round on Friday.