Maria Sharapova [ Images ] will be the Russian delegation's flag-bearer at next month's Olympic opening ceremony in London [ Images ], Russia's [ Images ] tennis chief Shamil Tarpishchev said on Tuesday.
But Sports Minister Vitaly Mutko said the Russian Olympic Committee (ROC) would make the final decision on the flag-bearer next month.
The Russians would break with tradition if they chose Sharapova, who won the French Open [ Images ] title last weekend.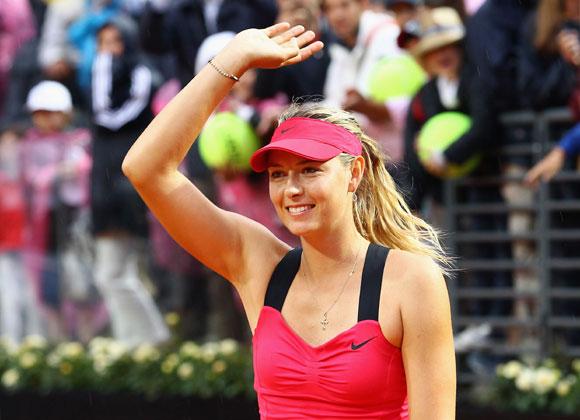 Carrying the flag is considered a great honour in Russia and it is tradionally given to famous athletes, mostly men, such as Greco-Roman wrestler Alexander Karelin and swimmer Alexander Popov, who have won numerous Olympic titles.
"Tennis is a very popular sport and, so as far as I know, Roger Federer [ Images ] has been chosen to carry the Swiss flag and Rafa Nadal [ Images ] will lead the Spanish delegation at the opening ceremony in London," Tarpishchev, a member of the International Olympic Committee, was quoted as saying by local media.
But Mutko told reporters: "Maria is an outstanding athlete, a worthy candidate, but she is only one of several candidates for that role.
"The final decision will be taken by the (ROC) executive board at its meeting on July 10-11."
Sharapova, 25, will be making her Olympic debut in London after failing to qualify for the 2004 Games in Athens and missing the 2008 edition in Beijing [ Images ] with a shoulder injury.
"The Olympics [ Images ] has been a dream of mine since I was a young girl," Sharapova, who was born in Siberia but is now based in Florida [ Images ], said earlier this year.
"Growing up in Russia, tennis wasn't a big sport back then. It was all about being an Olympian."
The Olympic tennis tournament will be played on the grass courts at Wimbledon [ Images ] where, as a 17-year-old, Sharapova stunned Serena Williams [ Images ] in the 2004 Wimbledon final to win her maiden grand slam title.
Her win in Paris gave Sharapova the full set of four grand slam titles.