The International Olympic Committee (IOC) issued public backing of its Games sponsors Coca-Cola and McDonald's on Tuesday, a day after president Jacques Rogge was quoted as saying there was a "question mark" over their sponsorship due to obesity concerns.
"I would like to clarify comments attributed to me in several media reports regarding Coca-Cola's and McDonald's Olympic sponsorship," said Rogge in a statement.
"The IOC hugely values the long-term sponsorship and support of both McDonald's and Coca-Cola. Through the years we have personally witnessed the positive impact that they make as TOP sponsors," said the IOC president.
On Monday, Rogge had been quoted in several British media as saying there had been a "question mark" over the sponsorship of the Olympics by McDonald's and Coca-Cola, driven by global obesity concerns.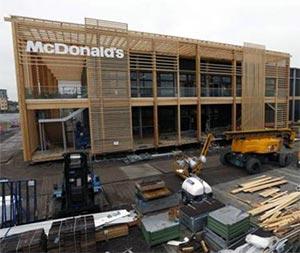 His comments come less than three weeks before the start of the London Olympics on July 27.
"For those companies, we've said to them: 'Listen, there is an issue in terms of the growing trend on obesity, what are you going to do about that?'" he was quoted by several media on Monday as saying.
The IOC has regularly had to answer questions regarding the sponsor agreements with the two food and beverage companies for the world's biggest multi-sports event and whether their association with the Olympics, promoting a healthy lifestyle, was compatible.
On Tuesday Rogge said the IOC is proud to be associated with them.
"Both companies bring forward the spirit of the Olympic Games through creative and engaging global programs that promote physical activity and the values that the Olympic Games are all about."
"We are proud to work with both Coca-Cola and McDonald's, with whom we have long term agreements in place through 2020."
McDonald's, whose four restaurants in London's Olympic Park include its biggest in the world, extended its 36-year backing of the Games in January by signing up as sponsor for another eight years.
Soft drinks company Coca-Cola has been sponsoring the Olympics since 1928 and also has a deal to 2020.
Image: A McDonald's restaurant in the process of being built on the Olympic Park in London on May 3, 2012. This will be McDonald's biggest restaurant in the world when completed.
Photograph: Eddie Keogh/Files/Reuters