Santhi Soundarajan, an Indian athlete whose career in sports ended after a failed gender test, is working as a daily wager at a brick kiln in Tamil Nadu, The Times of India reported on Tuesday.
The Asian Games medallist was stripped of her women's 800 metres silver medal in the 2006 Asian Games after failing a gender test and was admitted to hospital two years later following a suicide bid.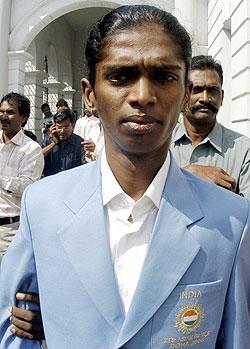 She has been working at the brick kiln for three months, earning 200 rupees (nearly $4) per day, the newspaper said.
"My hands ache and burn all the time," Santhi told the newspaper. "The skin has peeled off, there are boils all over".
Santhi, like many Indian track and field athletics, took up sport to find a secure job and escape grinding poverty.
One of the five children of brick-kiln labourer parents, she overcame malnutrition as a child to become a middle-distance runner.
Unlike South African athlete Caster Semenya, whose gender also came under scrutiny after her 2009 world title, Santhi was banned by the Athletics Federation of India. Semenya will be the flag-bearer for South Africa at the opening ceremony of the London Olympics on Friday.
The newspaper report is likely to be another embarrassment for the Indian federation.
Last month, Indian athlete Pinki Pramanik, who won the women's 4x400m relay at the 2006 Asian Games, was charged with rape by a woman who claimed the athlete was actually a man.
Photograph: Babu Babu / Reuters