Croatia's Ivo Karlovic called Wimbledon's credibility into question and accused line judges of bias after he was foot-faulted "11 times" in his second-round defeat by Andy Murray on Thursday.
The big-serving Croat lost 7-5, 6-7, 6-2, 7-6 to the British fourth seed, but was unhappy with the way officials persistently penalised him for foot-faulting in a tight match on Centre Court.
Karlovic said the officials were influenced by the fact that Murray was British and playing in front of a partisan home crowd.
When asked what was the difference between the two players, he replied: "Foot-faults. I don't know what to say, but it was a little bit outrageous.
"In my whole life, ever since I was eight years old, (my) whole life I didn't do this many foot-faults. It was like 11.
"It was never called when it was like 30-love or 40-love. It was always when it was 30 all or in a tiebreak. I mean, what is this? Is it Davis Cup or is it Wimbledon?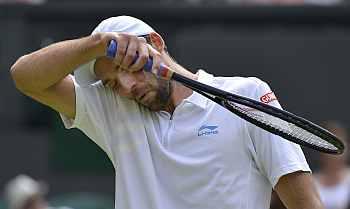 "After this match, the whole credibility of this tournament went down for me...
"After I don't know how many, I stood a little bit back so they cannot call (foot-fault). They still did it. So it was outrageous, outrageous. It's Wimbledon, Centre Court, and they do this."
Karlovic was adamant the calls cost him the match.
"You do the calculation. If these 10 points, I win? Who would have win? You do the math.
"I feel cheated. On a grand slam (stage), Centre Court, I don't know what to say."
When asked if he felt it was Wimbledon's desperation to see Murray succeed and become a grand slam champion that influenced the decisions, he said: "Not Wimbledon, but whole England or UK, sorry."
He was asked whether the officials were biased. "Definitely," he snapped.
Murray was sympathetic towards Karlovic, but said it was an issue that could only be resolved by analysing television pictures.
"(It is) impossible for me to say whether they were foot faults or not," he said.
"You can only look on the TV. And if he wasn't foot faulting then he has a right to be upset, because there was a lot of them. But if he was, then you can't do it. It's not allowed.
"I can't really comment on it unless I see it. I don't know what they were saying on the TV. They must have had some pretty clear images of it."
An All England Club spokesman responded to the accusations by saying: "If he is wishes to make a formal complaint then all evidence will be reviewed."