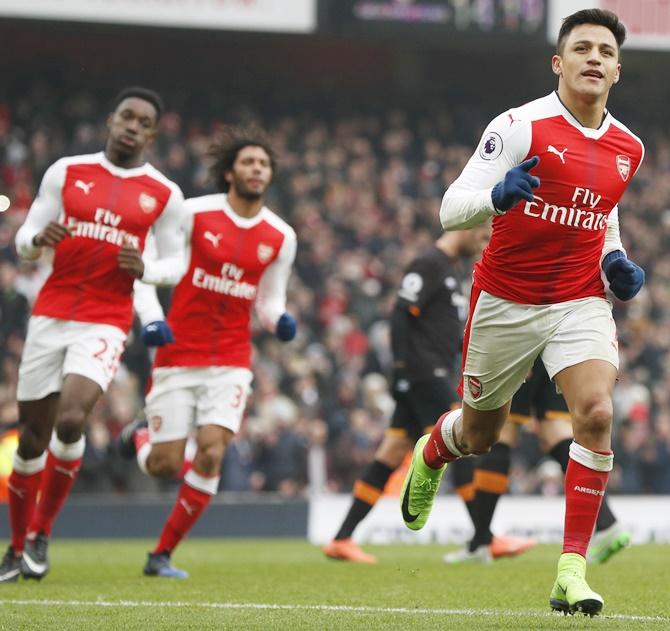 Liverpool manager Juergen Klopp believes Arsenal will be significantly boosted by the return of their "world class" striker Alexis Sanchez when they visit Anfield on Sunday, but is counting on the fans to help give his side an edge at home.
Liverpool beat German side Hoffenheim 4-2 at Anfield in a Champions League qualifying match in midweek in front of a raucous home crowd and Klopp called for an even better atmosphere against Arsenal in the Premier League.
"Arsenal are an outstanding, strong side," Klopp told a news conference on Friday.
"Sanchez is probably back first time on the pitch so that gives this team another boost.
"That's one advantage for Arsenal, but I think we all can remember the atmosphere of (the Hoffenheim game) and that's what we want to have.
"It's Arsenal. Big experience, big quality, speed, technical skills, different systems, good players in each position on the pitch."
Arsenal have not won a league game at Anfield since 2012, but Klopp has a couple of injury concerns before the match.
The German confirmed that Brazilian Philippe Coutinho (back) would play no part as he is still injured, while right-back Trent Alexander-Arnold is a doubt after suffering a dead leg against Hoffenheim.
IMAGE: Arsenal's Alexis Sanchez, right, celebrates scoring
Photograph: John Sibley/Reuters